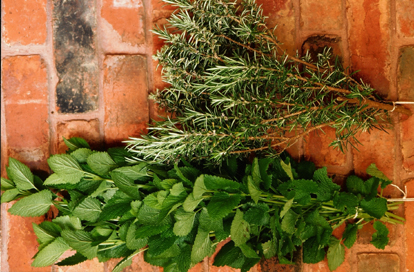 The very best way to use herbs for health and well being, as we've seen, is for your horse to self-medicate as its instincts dictate. Most of us donít have access to huge tracts of untouched land for our horses to roam, so hedgerows are the next best things. Creating herbal hedgerows (called ëditchesí in Ireland) around your property, will allow your horses access to those plants they would forage for in the wild, and also provide a place to grow herbs for drying and collection for your supplement program, or for treatment for specific problems.
The best base for a hedgerow is the Hawthorne bush. Not only is an extract of Hawthorne berry a major first aid treatment for severe injury or illness, but the plants are an ideal breeding ground for 'weeds' (herbs) - they protect the herbs from being grazed to the ground but make them available as required. The horseís instincts will cause it to put up with some discomfort (i.e. prickles on the nose) to get at something it desperately needs within the hawthorns, while the idle grazer will think twice about foraging in the prickles. How clever nature is!
It is a very simple matter to grow sections of hedges at the intersection of paddocks ñ or even across paddocks - as wind breaks and shelters, or as privacy hedges. Not only will the hedges serve as the base for your medicinal herbs, but these hedges will provide protection for your horses from wind, rain and cold (which means they will need less feed). They will protect pasture from the ravages of the elements, and will help to prevent erosion in your paddocks (and pockets). As an added bonus, a mature hedge creates a wildlife corridor for birds, insects and even small mammals by providing perfect protected nesting sites, food and shelter.
Include a water trough up against the hedgerow at some point with an overflow or sprinkler part way along the hedge. This will allow for a damper environment for some of the herbs like Borage, Chickweed, Elecampane, Mint and Parsley for example which prefer this sort of situation. Shovel manure up against some parts of your hedge and leave other parts very dry to vary the environment as much as possible, you get the idea.
When you have the basic hedgerow planted, all you need to do is to seed herbs within them - herbs really are usually very hardy, and just require some watering in dry climates. One of you out there could even market packages of all the appropriate seeds together - a 'Herbal Mix' - so we could just sprinkle them along the line of the young bushes. Protect the whole hedge for a couple of seasons with an electric, post and rail or net fence, and you have your own living 'supplement and treatment hedgerow'.
The Herb Garden
If herbal hedgerows arenít a viable option for you, you can create a designated herb garden, and include herbs for your animals and yourself, as well as culinary herbs. If you situate this close to the stables - perhaps with a vegetable garden for company - you have easy access for adding herbs to feed, and easy access to recycle the horse manure as fertilizer.
Old car tyres make wonderful ëplanting potsí for individual herbs, and are great for those herbs with a propensity to take over the whole garden ñ mints for example. You can stack the tyres at different levels ñ fill them with soil and manure, and plant herbs (and vegetables) both inside and outside the tyres for an easy, effective landscaping job.
The design options are endless, and limited only by your imagination.
Chosing Herbs
When choosing the herbs to grow ñ try to find good quality seeds from a herb nursery, or if you are lucky enough to have friends with established herb gardens ñ have them collect seeds (or cuttings) from their herbs for you.
If you buy seedlings from a nursery (herbs grow so fast, tubes are usually the best and most economical way to buy them), make sure you buy healthy, vigorous plants for the best chance of success. Check that the leaves and foliage on the plants are healthy (not browned, mottled, or discolored), that the root tips are not discolored, that any new shoots look lush and healthy, and that the stems are healthy-looking - i.e. not discolored.
Your 'herbal mix' for growing (either in hedgerows or your herb garden) could include, but not be limited to, the following herbs:
Aniseed, Borage, Elecampane, Chamomile, Dandelion, Dill, Fennel, Garlic, Horehound, Horse Radish, Horsetail, Milk Thistle, Millet, Mint, Nettle, Parsley, Pennyroyal, Red Clover, Rosehips, Rosemary, Rue, Sage, Shepherds Purse, St. Johns Wort, Tansy, Vervain, Wild Lettuce, Wormwood and Yarrow.
When selecting the individual herbs you need to find the wild varieties, not the modern commercial ones. That is to say, find some of the old-fashioned Garlic with the small cloves, and make sure you get the Wild or Dog Rose with the small pink flowers and not the commercial ornamental roses.
Robert McDowell
Herbalist
January 1999