As bleak as it is to think about, the industry surrounding horses is one largely associated with disposal. When a horse is no longer viable to our needs - we sell it. When he is no longer making us money - we load him on a truck and send him away. When he injures himself - we shoot him. Of course this generalisation doesn't apply to all but for the most part, it is the unfortunate veracity. Although, once in a while, the old saying comes into play 'One man's trash is another man's treasure'. The spring afternoon in 2008 when I met my horse 'Kelly', was the day I found my pearl.
I'd been at a horse sale since early that morning and had been chatting to an older lady for the better part of the day;- conversing on which horses we preferred and swapping stories. She was affiliated with my best friend and a connection between us formed almost instantly. She mentioned to me that should I not find what I was looking for at this sale, that she had something at her place I might like; something that was waiting for someone just like me. Intrigued, I put my bidders' number away and followed her to her home after the sale had finished. For the young girl who watched the camp drafts and rodeo events with hopes of perhaps being close enough to rub one of the horses on the face; seeing what stood in front of me was illusionary.
16.3hh worth of Purebred Quarter horse graced me as approached. He was the most regal beast that I had ever laid my eyes on, the biggest horse I'd been on at that. Sitting on his back I felt as proud as I ever had.
It wa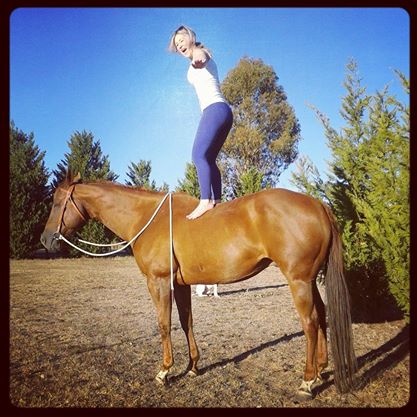 sn't until I asked him to move forward that I realised why I was riding this horse in the first place. The slightest touch of my hands or movement in my legs proved that the training in this horse was like nothing I'd experienced before and to this day - never have again. He did however have a condition called 'Kissing Spines', much like scoliosis in humans which made him rigid to ride. Had he have been a sound and healthy gelding, he would have been another spectacle that I could only watch. Life is enigmatic like that.
I was told that he did a few camp drafts and was now useless; that he was given to her and she too doesn't need him. The older lady gave me one condition 'You must not tell anyone you have him'. A request that seemed futile at the time.
Knowing his limitations and the care that he would require, I made the best decision of my life that day.
Kelly decided straight up - not that he was my horse but rather, that 'I was his human'. He would guard me around other horses and was nervous for anyone else to show him any affection. He would be the most placid horse out on a ride with me but come a day that anyone else would ride my gentle giant- he would defy all of their efforts often leaving riders on the ground. People would often see me sitting under him and climbing all over him and want to meet the cruisy guy but should anyone unknown enter his space without my presence, I'd often receive a phone call about my gelding that was malevolent. This was a trait that has never wavered; this was a one owner horse. A year had passed before anyone had shown any real interest in my Kelly. I was watching a camp draft one weekend when one of the leading ladies and I got chatting. She had just won a major event and was on the cover of a magazine, so of course I had to show her my beautiful gelding that I felt was worthy to be on a cover too! Upon seeing his photo she paused. 'Get his papers'.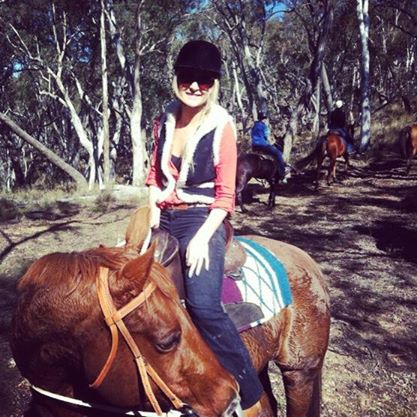 In the time it took me to send her his registration information, she explained to me that there were two geldings by the same father that were identical, that they were both the last horses in an elite bloodline. She continued, 'One was an exceptionally well campaigned camp drafting champion, having gone through a renowned Quarter Horse Auction, selling for more than a house deposit … 'The way this horse would Stretch out Alex, he was something to watch'; and the other was a kid's camp drafting mount. She had a hunch that my Kelly was related to the brothers. When I got the paperwork back to her, her eyes widened.
'I haven't seen this horse in years. I followed his career until he disappeared. That's Stretch, Alex. You own Stretch'. I was confused to say the least. How was it that I was lucky enough to have this drafting legend waiting for me at the gate every day? It baffled me how retention, even of a well serving horse was something of a rarity. As I was greeted by my mystery horse that afternoon I saw him in a different light. Taking his time to shuffle over to his Lucerne, I watched what would have to be the most humble beast chew away. This journey which has now seen our bond blossom over 6 years is forever growing.
Kelly will never leave my farm; not for any of the riches that I've been offered for him. He is living, breathing, and shuffling proof- that not all treasure is silver and gold.