Create a garden for your feline friends by planting plants they love. In fact, giving cats their own space may help keep them out of your flower beds and vegetable plot!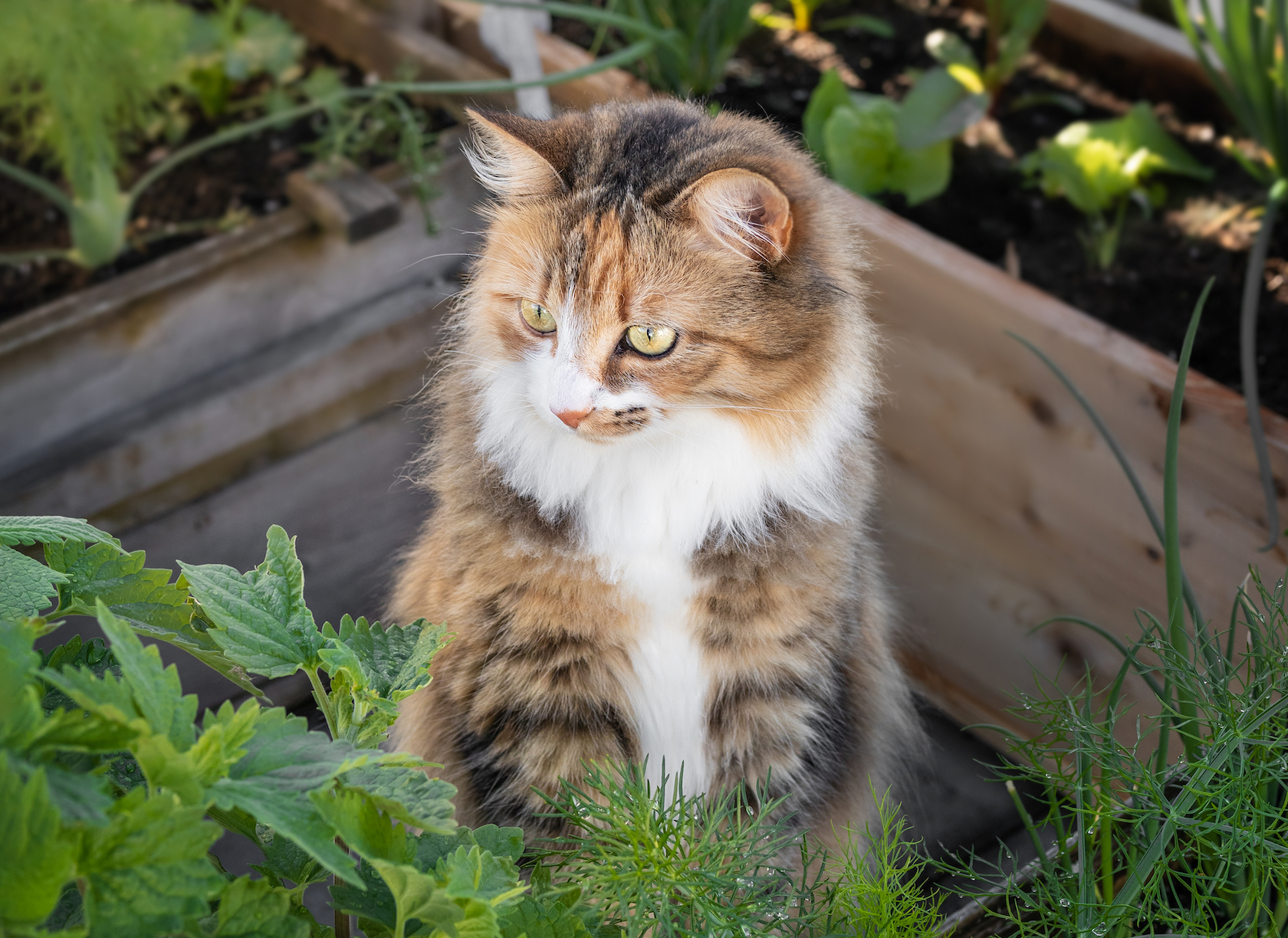 Ideas for a cat garden paradise could be:
Provide hiding places and shelters with large shrubs, trees, logs and
Outdoor toys
Avoid chemicals like pesticides, fertilisers and insecticides
Include logs and branches for scratching, jumping and climbing
What plants should I plant?
Most cats will go crazy over catnip (Nepeta cataria). Long before anyone discovered that this plant, a native of Europe, triggered a response in cats, it was used for tea and as a medicinal herb to treat a number of ailments. It is also said to be an effective mosquito repellent.
Most cats also will adore catmint (Nepeta mussinii), which induces similar frenzies in cats. The plant has silvery leaves, and flowers ranging in color from white to dark blue, depending on variety. The compact plants make a nice place for an afternoon catnap.
Cats can also enjoy chewing on Dactylis glomerata (cat grass).
No cat's garden would be complete without cat thyme (Teucrium marum) or valerian (Valeriana officianalis). The first is a member of the mint family and has deep green leaves and purple spires. It is related to the herb Germander, not the herb Thyme, so its common name is misleading!
Valerian, a sedative for humans but a stimulant for cats, also goes by the name garden heliotrope. It's an attractive plant with fern-like foliage and fragrant pink, white, or lavender flowers.
What plants should i avoid?
Poisoning from plants in cats is generally rare. All plants, even grass, can have an irritating effect on a cat's gastrointestinal system causing it to vomit. But, given the opportunity, cats like to nibble on grass (1).
Lilies are toxic and potentially fatal to cats, so should be avoided completely. Bulbs including alliums, amaryllis, crocuses, daffodils, hyacinths and tulips can be dangerous to cats, as can cyclamen, poinsettias and rhododendrons.
References
(1) International Cat Care website