People are always searching for the best way to protect themselves and their family from potential illness but it's important to ensure that what we put in to our bodies is real, healthy and whole food based. Vitamin C supplements may be either synthetically manufactured or taken in their natural form. Those in natural form are as close as we can get to the state they would be found in dietary sources, such as fruits and vegetables.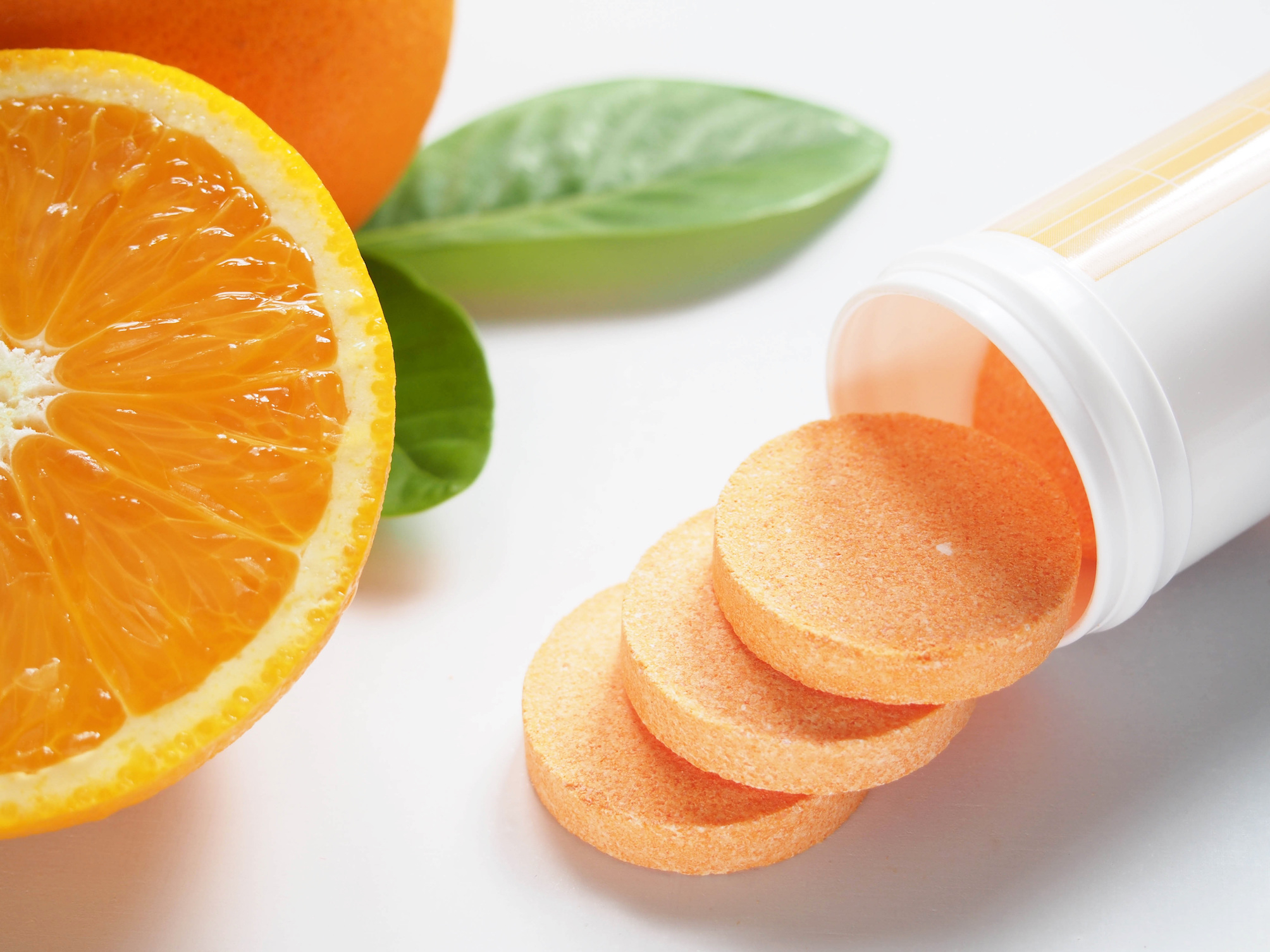 Ascorbic acid is a synthetic C, which has no immune boosting benefits and is made with fillers, polymers, cell destroying toxins, abrasives and petroleum derivatives. We know that natural forms of vitamin C last longer in the body than synthetic vitamin C (Uchida et al., 2011) and that it is more bioavailable in both blood and liver (Vinson et al. 1989).
Evidence is showing that daily vitamin C intake should be many times higher than the amount needed to protect against scurvy, and this is reflected in the present Recommended Dietary Allowances (Dr. Stanley N).
What can I be eating or to stay as healthy as possible?
Rosehips are the seed pod of the rose and are one of the very best sources of natural iron and Vitamin C. Drink as a hot or cold tea. See a recipe here.
Oranges are the most accesible suggestion for food based vitamin C. Try to obtain organic oranges that haven't been transported hundreds of miles, or left in cold storage. Eat them fresh and whole, not as orange juice. Eat the whole segment and the pith (the white part between the skin and fruit). The pith can be sour or bitter but actually contains just as much vitamin C as the fruit itself, and lots of fiber (which in turn slows the absorption of fruit sugars).
Saurerkruat is a traditional type of fermented cabbage. One cup contains 23% of the daily value of vitamin C. Sauerkraut is rich in other fiber, vitamins, and minerals too. It contains probiotics that also help your body absorb these nutrients more easily, making sauerkraut more nutritious than raw cabbage.
Thyme, a culinary herb available at most supermarkets, has three times more vitamin C than oranges. Gram for gram, fresh thyme and one of the highest vitamin C concentration of all. 28 grams of fresh thyme provides 45 mg of vitamin C, which is 50% of the daily value. Good news is, it's also easy to grow!
Fresh parsley, along with other leafy greens, is a significant source of vitamin C and plant-based, non-heme iron. Two tablespoons, or about 8 grams, of fresh parsley contain 10 mg of vitamin C, providing 11% of the recommended DV. It's very easy to find or grow!
Kale, a vegetable that's become more well known, provides 80 mg of vitamin C, or 89% of the daily value if eaten raw. Cooking it reduces that amount to 53 mg, or 59% of the DV for vitamin C.
Although Maritime Pine Bark doesn't contain vitamin C, studies are showing that extends the lifetime of vitamin C in the body, prolonging its beneficial effects as an antioxidant (Berekely, 1998). They looked at extracts of fruits and vegetables, gingko, green tea and many other plants, as well as purified flavonoids, and among these Pycnogenol (Maritime Pine Bark) "was the most potent in extending the lifetime of the vitamin C radical".
References
Immune-enhancing role of vitamin C and zinc and effect on clinical conditions.
Wintergerst ES1, Maggini S, Hornig DH.
https://www.ncbi.nlm.nih.gov/pubmed/16373990
Vitamin C (Ascorbic Acid): New Roles, New Requirements?
Dr. Stanley N. Gershoff Ph.D.
https://onlinelibrary.wiley.com/doi/abs/10.1111/j.1753-4887.1993.tb03757.x
Absorption and excretion of ascorbic acid alone and in acerola (Malpighia emarginata) juice: comparison in healthy Japanese subjects.
Uchida E1, Kondo Y, Amano A, Aizawa S, Hanamura T, Aoki H, Nagamine K, Koizumi T, Maruyama N, Ishigami A.
https://www.ncbi.nlm.nih.gov/pubmed/22040889
Sauerkraut, canned, solids and liquids
https://fdc.nal.usda.gov/fdc-app.html#/food-details/169279/nutrients
Thyme, fresh Nutrition Facts and Calories
https://nutritiondata.self.com/facts/spices-and-herbs/218/2
"Pine bark extract is a potent antioxidant, and may help boost the effects of vitamin C and other antioxidants, UC Berkeley scientists report"
https://www.berkeley.edu/news/media/releases/98legacy/02_05_98a.html