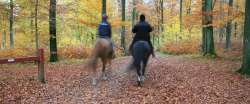 I am finding this situation surprisingly easy to treat using a combination of the following herbs in combination. Maritime Pine Bark given separately with a mix containing Equisetum, Elecampane, Wormwood, Fenugreek, Echinacea, Euphorbia, Yarrow, Horse Radish, Violet Leaves, and Red Clover.
In addition to the herbal extract mix I recommend that the herbs Rosehips, Garlic and Fenugreek also be given as feed supplements; as a herbal tea in the case of Rosehips, softened by soaking in the case of Fenugreek and fresh or extracted into Molasses in the case of Garlic.
This program seems to be highly successful in quickly arresting the progress of this particular condition and clearing the secondary infection and other symptoms and I am watching closely a number of cases to follow their longer term prospects.
Note: Feeding your horse fresh cloves of garlic helps