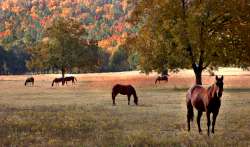 This extract of herbs clears and strengthens the lungs, opens the airways and boosts the adrenal glands of a thick-winded horse which doesn't perform to its capacity because of inefficiency in the lungs and bronchials.
The mix includes Cider Vinegar extracts of the herbs:- Hawthorn, Elecampane Herb, Elecampane Herb, Fresh Garlic, Golden Rod Herb, Liquorice Herb, Mullein Flowers and Rue Herb.
This particular combination also aids in healing scarring from lung damage and helps to protect any such damage result in bleeding under stress.
Many owners and trainers of harness racing horses find they benefit from the improved respiratory efficiency supported by the Breathe-Well tonic.
A dose of 10 ml twice per day during training with a booster of 20 ml an hour before racing or competition will get the best out of your horse's lungs.
(Breathe-Well contains no prohibited substances.)