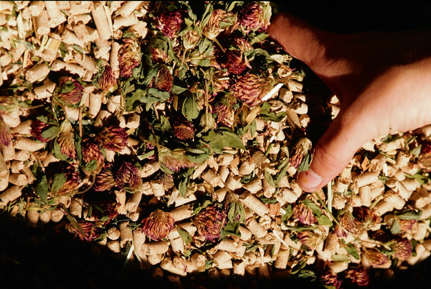 The only thing that builds muscle is lots of feed, and the correct work. If he is not getting the correct type of work, than he can not develop the correct muscles.
The only way to develop the correct muscle is to use the classical system of dressage. If you already are trying this, then be sure to check that what you are doing is correct.
Philippe Karl has a thorough and scientific approach to training, that is in harmony with the horses physical capacity, and also supports his nature and psychology.
Although these books and DVDS cover high school training as well, the fundamentals are always the same and Philippe speaks in a language that is easy and comfortable to read.
Create relaxation - rhythm, engagement and balance will follow. We have to however create circumstances for these events to occur.
Our Tendon and Bone treatment can assist during this training to repair muscle tearing and damage created by tension.
Our Nervous Rehabilitation program assists the horse that is tense due to past history .