Alternative medicine is very much do-it-yourself medicine much as was practiced by all those in charge of stock for the past several thousand years. It is only recently that we have been encouraged to leave most of our stock care medical treatments to professionals of one sort or another.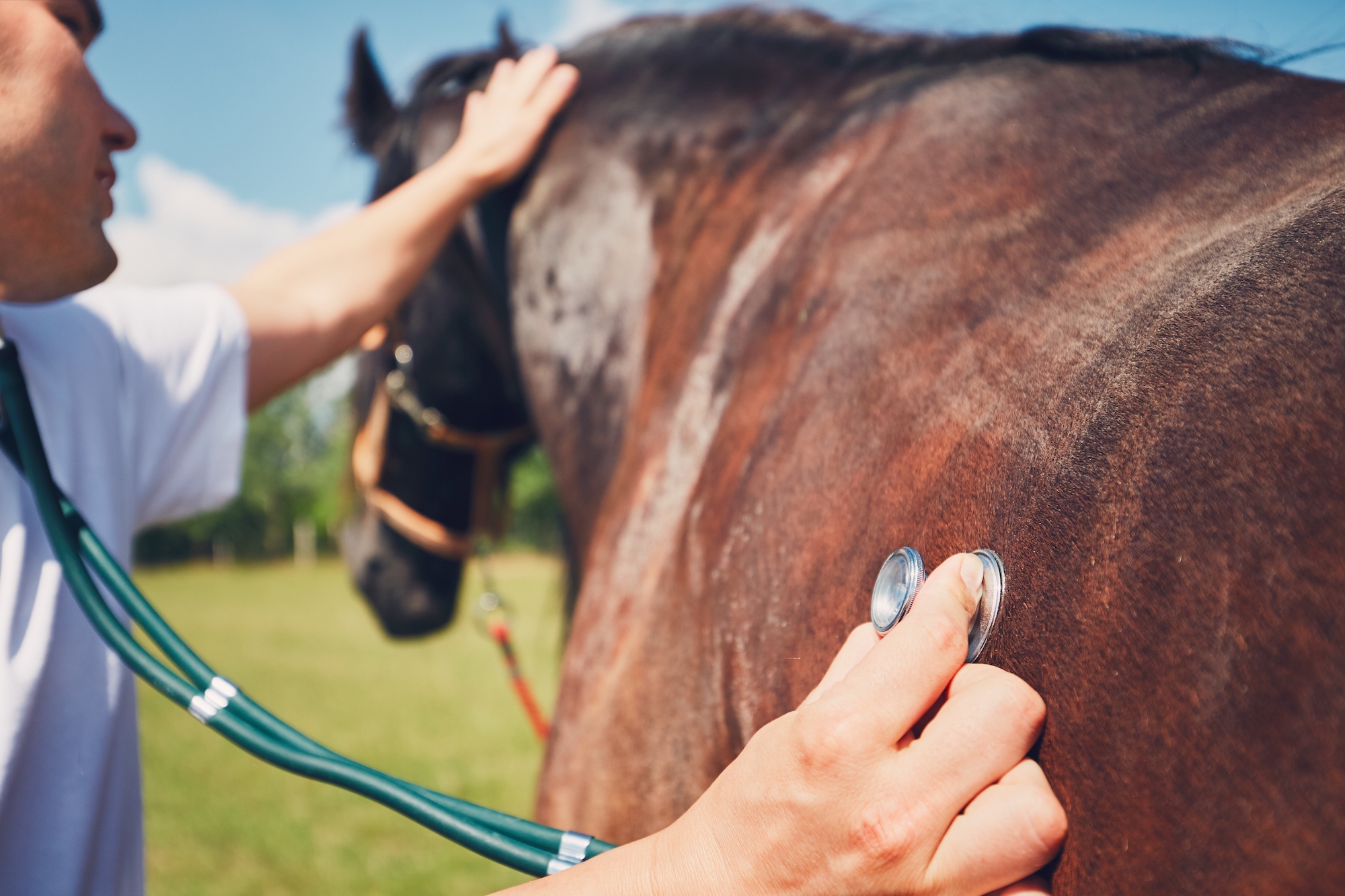 There are many things we can do for ourselves in cases of accident or injury suffered by our animals to provide immediate assistance and to minimise the distress of the incident.
I have put together a simple and useful collection of some of the most helpful and important first aid materials in a convenient case which should be taken with us whenever moving or attending to our animals. The utility of each of the individual formulations is discussed separately but briefly the kit consists of the following;
Rescue Remedy: Used as first aid for shock a few drops directly into the mount of the horse (and maybe the owner) helps to reduce the panic and stress of shock and aid in settling things down much more quickly for the horse and to assist the owner make better calmer decisions.
Antiseptic/ Styptic: To reduce blood flow and as an immediate antiseptic. For any puncture wound or gash, first wash out with water if possible and pat dry, then apply a squirt of this mixture of Calendula and Yarrow extracts. If it is not possible to wash out the wound then just squirt the mixture into the wound directly. If applied regularly thereafter, whenever tending the wound, it will heal more naturally and quickly from the inside out and scarring will be minimised.
Trauma Mix: This is a more comprehensive travel trauma treatment to be given if there are any accidents or incidents while floating your horse which result in high levels of distress. In such a situation a horse is liable to suffer a stress colic or stress founder and it is vital to have a herbal preventative program to hand which is able to reduce instantly the likelihood of these outcomes. The herbal ingredients are extracted into Organic Cider Vinegar for immediate uptake by the digestive system and doses of 10ml each are given directly into the mouth at frequent intervals during the incident and then for a few days following to finish off.
The mix includes the herbs:- Chamomile, Fresh Garlic, Hawthorn Berries, Parsley, Rosehip Berries, White Willow Herb, Yarrow Herb and Rescue Remedy.
Skin Healing Cream: This simple cream is the first aid for scratches and burns, including rope burns. The has antiseptic and antifungal properties and includes the herbs:- Chamomile, Horsetail, Calendula, Pine Bark, Slippery Elm and Thuja along with Elecampane to speed healing and minimise scarring.
Hoof Oil: My Hoof Oil formulation is specific to healing unhealthy or damaged hoof tissue and it functions by dramatically improving the circulation within the hoof and driving healing herbs directly into the hoof. It is also a valuable aid to healing of all limb injury since circulatory inefficiency within the horses legs is a major impediment to rap id healing. The application of hoof oil to the hoof will speed healing for all other leg injuries whether involving soft tissue, ligaments or bones. Remember also, it works just as well on any human sprains, torn ligaments or bone bruises etc.
The ingredients are:- Arnica, Elecampane, Linseed, Kelp, White Willow, Rosemary and Wintergreen.
Alleviate: This formulation is a herbal alternative to Bute without the side effects. It can be used in conjunction with Bute for very severe pain to allow much smaller amounts of the Drug to be administered, thereby reducing the likelihood of ulcers and other side effects. It can be used instead of Bute when the pain becomes more manageable, thereby reducing the time of exposure to Bute.
The mix includes:- Devil's Claw, White Willow, Guaiacum, Burdock, Pine Bark, Rosehips, Elecampane, Yarrow and Vinegar along with the Bach Flowers Honeysuckle, Vine, Walnut and Rescue Remedy.
This herbal formula may be used in a competitive environment as it is does not show up in drug testing.
Colloidal Silver: Colloidal Silver is an antibiotic and may be used externally and taken internally. It is particularly valuable to treat exotic hospital based infections and I recommend that it is given as a preventative whenever your horse is taken to the Vet for any surgical procedures. I normally only use the Silver when the usual approaches to infection via immunity support are struggling, but it is valuable as first aid when infection is a risk.
Eyewash: This concentrated extract is mixed with water and can be used in any eye accident, injury or infection. It must never be administered without dilution but two or three drops in a small amount of water splashed into your horses eye can very quickly reduce pain, inflammation and begin to treat the infection. It is also equally useful for other animals and human use. Regular treatment with this mix will heal ulcers and any number of chronic eye problems.
The Eye Wash Mix Includes:- Celendine, Golden seal, Rue as well as the Bach Flowers Rescue Remedy and Crab Apple.