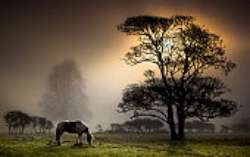 We prescribe a super concentrated extract based on Arnica, Witch Hazel and the Bach Flower Rescue Remedy which you mix with Linseed Oil to be massaged locally over the area of the swelling.
This promotes re-absorption of the fluid and healing.
These extracts are extremely concentrated and must be applied sparingly and under our specific advice in each case. This is a topical treatment to reduce the swelling.
The underlying problems are associated with the fluid which lubricates the tendon within the tendon sheath and inflammation results in excess fluid attempting to cool and lubricate.
I recommend you also consider an internal Ligament and Bone Healing program as the Windgalls themselves are really only an indication that there is a weakness and a lubrication problem in the tendons above.