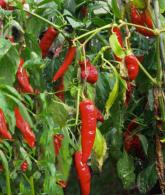 The Chilli is a dynamic herb - purifying the blood and stimulating the circulation and energising the body. Chilli also makes every other herb work better synergistically. Some even say that it is better to take directly via the mouth and not use capsules as most of the benefit come from the nerve endings in the tongue being stimulated. Obviously though, it is sensible to start slowly.
Chilli aids the digestion of proteins and if consumed over time can reduce the need for calories without foregoing performance and strength.
Chilli has been used traditionally externally as a counter irritant to relieve itching or pain from rheumatic joints and bronchitis.
In medicinal doses it has a reputation for stimulating the gut and helping digestion, causing a burning sensation in the mouth and increasing the flow of saliva. It is reputed to stimulate the heart, skin, kidneys and nervous system. Recent research adds chilli to the list of super foods. This research, addressing the ability of chilli to treat certain types of cancer, adds to the existing knowledge of the health benefits of chillies. Previous research has established benefits from chillies in terms of treating ailments such as asthma and arthritis and reducing cholesterol and boosting the immune system.
Initial experiments in cancer cells and mice show that capsaicin causes prostate cancer cells to undergo a kind of suicide. In addition, capsaicin also was effective against leukaemia, and might be effective in slowing or preventing the growth of other cancers as well.
The magic of chilli seems to be the fact that it brings renewed life to cells by bringing more blood and oxygen to cells and removing toxins and therefore promoting healing.
Chilli Punch
Simmer the following 3 ingredients 30 birds eye chillies (remove green tip but other wise keep whole), one level tablespoon of cloves and 3 cups water for 10 minutes then strain and make up to 6 cups with boiling water. Add 5 cups sugar. Dissolve 1 oz citric acid and 25ml of lemon essence. Mix well and use as a cordial. This can be enjoyed hot or cold.
Chilli Oil
Chili oil is made from dried chilies, preserved in oil. It adds a great kick to whatever dish you're using it in and can be used for a variety of cuisines - chinese, indian, italian or mexican.
Ingredients
1 cup vegetable oil (or oil that you choose)
2 tsp red chili flakes
2 to 3 whole dried red chilies
Instructions
Heat 2 tbsp oil in a saucepan over medium heat. Add chili flakes and whole chilies. Cook, stirring, until chilies start to gently sizzle, about 1 min. *If they begin to brown you've gone too far and will have to start over.
Add remaining oil to pot. Heat until oil is warmed through, but not too hot to touch. Remove from heat and let cool to room temperature.
Store in an airtight bottle or jar. Shake occasionally to disperse the chilies.