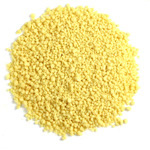 In todays modern world and lifestyle we need more nerve and brain energy than ever before.
Lecithin is a fatlike substance called a phospholipid. It is produced daily by the liver if the diet is adequate. It is needed by every cell in the body and is a key building block of cell membranes; without it, they would harden. Lecithin protects cells from oxidation and largely comprises the protective sheaths surrounding the brain. It is composed mostly of B vitamins, phosphoric acid, choline, linoleic acid and inositol. Although it is a fatty substance, it is also a fat emulsifier. Hence, it supports the circulatory system.
Lecithin is brain and nerve food, we need it when tired and fatigued, when we feel brain dead , when we can't make decisions and have lost our alertness. In fact if we take Vitamin B in supplement form we need to be taking lecithin to be able to retain the vitamin B. Lecithin is found in abundance in olives, egg yolk and avocados, liver, peanuts, soybeans, and wheat germ .
Interestingly multiple sclerosis patients have significantly less lecithin in the brain and myelin sheath than normal person. The autopsies also show that the lecithin that is present in the brain and myelin sheath of these multiple sclerosis victims is essentially composed of all saturated fatty acids and no unsaturated fatty acids. Multiple sclerosis is also known to have a much higher incidence in countries where the diet is high in saturated fats.
Vitality and Brain Function Tonic