We've just learnt that shakshuka means "a mixture"! Shakshuka is a traditional Middle Eastern dish made by baking or poaching eggs on a tomato base made from with onions, garlic, herbs and spices. We've adapted the recipe to include plenty of herbs (of course!) and it can be eaten for breakfast, brunch, lunch, dinner or anytime at all really...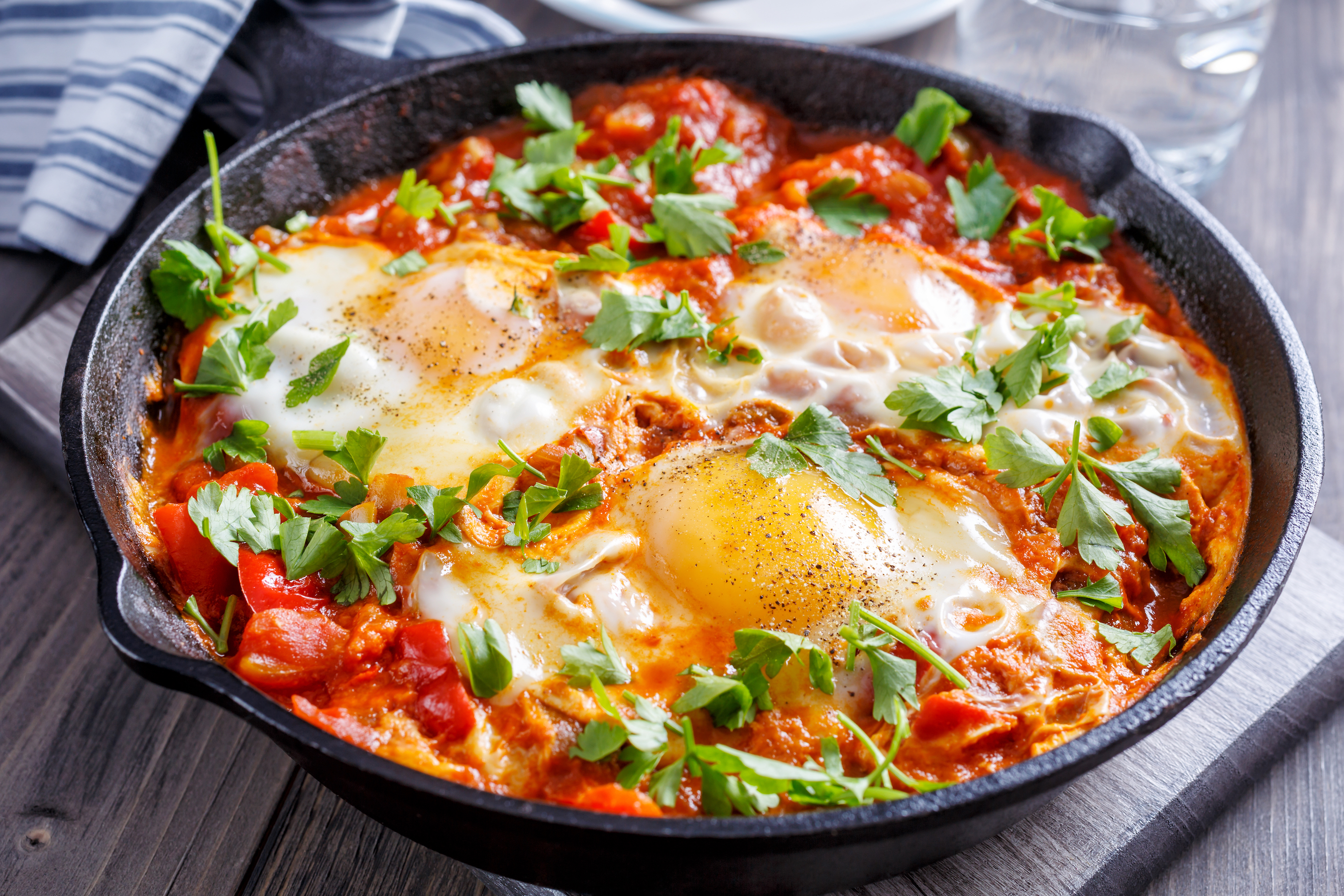 This recipe is delicious on a cold day served with pitta bread, sourdough or even some crackers! The the beauty of this recipe is that you can use any vegetable you've got in the fridge to bulk out the recipe. Some ideas might include adding some oven-softened pumpkin or sweet potato, finely sliced zucchini, in-season asparagus or even fresh spinach.
To start, you'll need an oven proof dish or a cast iron pan with a lid to cook. This recipe served 2-3 people.
Ingredients
1 brown or red onion
2 cloves fresh garlic, finely chopped or crushed
1 capsicum (or your favourite in-season vegetable)
2 tbsp olive oil
1 teaspoon paprika
1 teaspoon cumin
Chilli powder to taste
4 eggs
2 cans crushed tomatoes
Fresh parsley
Fresh coriander
Fresh mint (optional)
Salt to taste
Pepper to taste
Method
1. Heat the pan to medium and add 1 tablespoon of the olive oil
2. Dice the onion and capsicum and add that to a pan
3. Cook for about 5 minutes or until the onions become translucent
4. Then add the chopped garlic and spices, stirring for another minute
5. Add the tinned tomatoes and let it simmer on low heat until the liquid is reduced
6. Next, make 4 'dips' in the tomato mix and crack an egg into each one.
7. Put the lid on the pan and cook over a very low heat for about 6 mins, or until the eggs are cooked to your liking.
8. At this point you can add fetta or goat's cheese sprinkled on top
7. Scatter with the finely chopped coriander, parsley and mint leaves and serve hot!