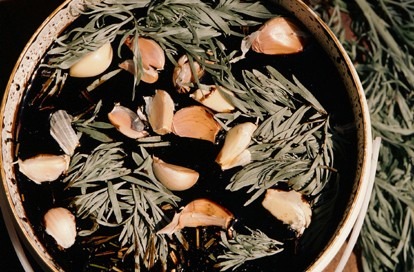 Cinnamon not only delights the taste buds, but benefits other parts of our body as well. It is one of the world's oldest healers. Recent research studies show that cinnamon contains constituents that can kill bacteria and other micro-organisms. It has the following properties: analgesic, antiseptic, anti-spasmodic, cardiac, carminative, emmenagogue, insecticide, stimulant, stomachic, and tonic.
Like many culinary spices, cinnamon helps soothe the stomach. But a Japanese animal study revealed that it also may help prevent ulcers.
Cinnamon steeped in warm milk has been used to relieve symptoms of altitude sickness.
Ground cinnamon has been used on a wet toothbrush as an antiseptic forgum disease, mouth sores and cavities.
Apply as a wash and soak for skin fungus such as athletes foot.
Cinnamon simmered in milk with a little honey added has been used to treat indigestion, griping, diarrhea and bloating. Combining with slippery elm enhances its effect.
A compound tea has been used to treat nausea (3 small thin sticks of cinnamon, 1 tbsp cardamom seeds, 1 tbsp nutmeg; powdered together in a coffee blender, 1/4 tsp being used to 1 cup of hot water for an adult, a small pinch in 1 cup of tepid water for a child).
It has been used externally as a wash to clean wounds.
It also appears to help people use insulin more efficiently therefore making it a possible support for prediabetics.