Lemons and limes are an excellent source of Vitamin C, one of the most important antioxidants in nature. Vitamin C is one of the main antioxidants found in food and the primary water-soluble antioxidant in the body. Vitamin C travels through the body neutralising any free-radicals with which it comes into contact in the aqueous environments in the body both inside and outside cells.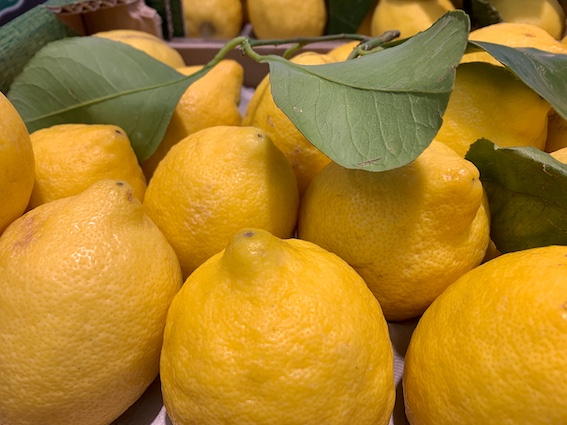 Free radicals can interact with the healthy cells of the body, damaging them and their membranes, and also cause a lot of inflammation, or painful swelling, in the body. This is one of the reasons that vitamin C has been shown to be helpful for reducing some of the symptoms of osteoarthritis and rheumatoid arthritis.
Since free radicals can damage blood vessels and can change cholesterol to make it more likely to build up in artery walls, vitamin C can be helpful for preventing the development and progression of atherosclerosis and diabetic heart disease.
Vitamin C is also vital to the function of a strong immune system. The immune system's main goal is to protect you from illness, so a little extra vitamin C may be useful in conditions like colds, flu's, and recurrent ear infections
Lemons are the only food which are anionic (alkaline). The catch is that this is only true of fresh lemons.
After about 30 minutes of exposure to air (oxygen), lemon juice becomes cationic. The confusion comes when one thinks in terms of acid and alkaline. Lemon juice would always be thought of as acid, but, while fresh, is anionic (which corresponds to alkaline). Other than fresh lemon juice, the only other thing that is purely anionic is pure calcium.
To explain anionic and cationic... an ion is a molecule with an electric charge. An anion contains the smallest amount of energy known to man. It is a negative charged ion. Its electrons orbit around the nucleus in a clockwise direction. An Anion corresponds to alkaline , while a cation corresponds to acid. It is a positive charged ion. Its electrons orbit in a counter-clockwise direction.
According to Reams, anions are attracted to the Van Allen radiation belt around the earth. Cations are attracted to the earth itself. Cationic foods include potatoes, carrots, beets and other root vegetables, which grow into the earth because of their cationic composition. They are not wholly cationic, however; the flowering,leafy part is anionic, which is why it grows upwards (actually, even the roots are part cationic and anionic, but mostly cationic). Corn, tomatoes, etc., are mostly anionic and grow upwards, but their cationic root parts grow down into the earth.
According to Reams, the key issue here concerns our digestive process. The gastric juice produced by the liver is anionic. All foods (except fresh lemons) are a varying mixture of cationic and anionic. When the anionic gastric juices come into contact with cationic foods, the two ions react to each other, much like vinegar and baking soda, and energy is released to be used by the body. Let me quote from Dr. Reams, ''We do not live off the food we eat, we live off the energy from the food we eat. The anion rotates in a clockwise direction. The cation in a counter-clockwise direction. Resistance is created when these two moving forces, rotating in opposite directions, collide. The measure of the resistance, in chemistry, is called ''pH''. When a person gets sick, there are not enough anionic substances present to supply the energy required.
Dr. Reams used fresh lemon juice as a part of a restorative therapy with his clients (one part juice to nine parts distilled water). The juice provided anionic substances to their livers. Non-culinary use
Lemon hair lightener - Lemon juice applied to the hair is a natural hair lightener.

Insecticide - TheD-limonene in lemon oil is used as a non-toxic insecticide treatment.

Acne Treatment - Applying lemon juice to facial blemishes is a popular form of treating acne.

Skin bleach - Lemon juice is also believed by many to lighten the skin when applied topically, as it has been suggested that the acids it contains inhibits melanin production. The effectiveness, however, is largely a subject of debate.

Lemon is used in facial masks for refreshing the skin.

Wood treatment - lemon oil is often used on the unsealed rosewood fingerboards of guitars and other stringed instruments. It should not be used on maple fingerboards, as these are generally sealed and the oil would just stay on the surface.

Lemon juice is often used to clean the inside of animal skins prior to taxidermy.

Natural deodorants are generally made from lemon extracts. Raw lemon can be used as a short term deodorant.
Lemon alternatives
Several other plants have a similar taste to lemons. In recent times, the Austarlia bush food "lemon mytle" has become a popular alternative to lemons. The crushed and dried leaves and edible essential oils have a strong, sweet lemon taste. Lemon myrtle is popular in foods that curdle with lemon juice, such as cheesecake and ice cream. Limes are often used instead of lemons.
Many other plants are noted to have a lemon-like taste or scent. Among them arelemon grass lemon balm, lemon thyme, lemon verbena, scented geraniums, certain cultivars of basil, and certain cultivars of mint.