Cats are carnivores and generally don't require fruits and vegetables to fulfill their nutritional needs. Some suggest that 'big cats' (tigers, lions, leopards etc) eat the contents of the stomach of the animal from the kill and therefore eat redigested vegetables, grains, and fruits.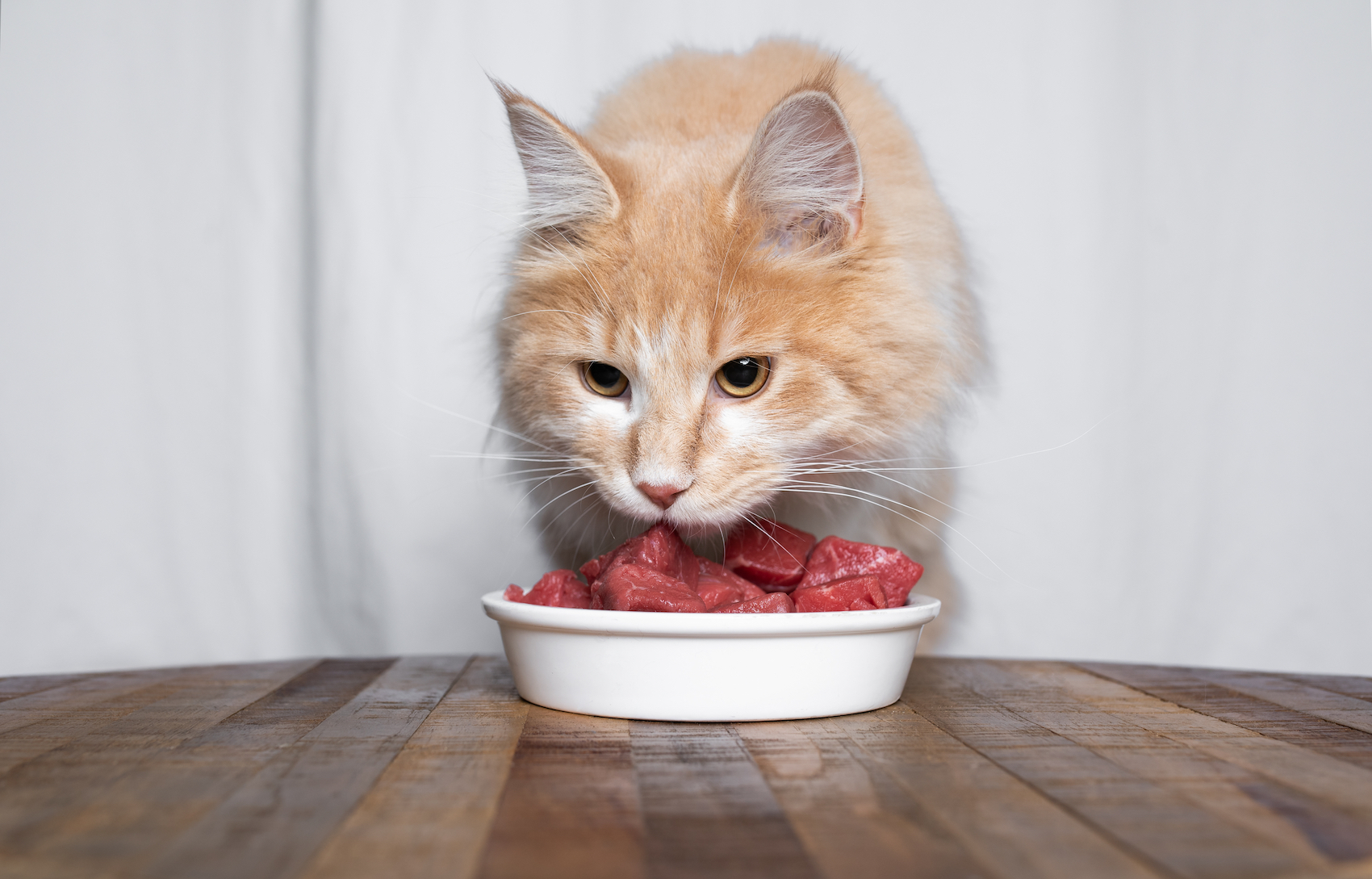 Feeding your cat a homemade, raw food diet will do wonders for their overall health. The odd tin of cat food or a little dry kibble wont hurt but the majority of their nutrition should be coming from raw, enzyme and nutrient rich ingredients.
If you do want to feed vegetables, a better choice is cooked carrots, peas, corn kernals, broccoli florets, green beans, zucchini, lettuce, spinach and catnip. Do not feed garlic, onions, tomatoes, avocados or mushrooms. These foods are either toxic to cats or are difficult for them to digest.

INGREDIENTS
2 kg [4.4 pounds] raw muscle meat with bones (chicken thighs and drumsticks or, better, a whole carcass of rabbit or chicken amounting to 2 kg (50% bone 50% meat); if you don't use a whole carcass, opt for dark meat like thighs and drumsticks from chicken or turkey).
400 grams [14 oz] raw heart, ideally from the same animal (if no heart is available, substitute with 4000 mg Taurine).
200 grams [7 oz] raw liver, ideally from the same animal (if you can't find appropriate liver, you can substitute 40,000 IU of Vitamin A and 1600 IU of Vitamin D but try to use real liver).
16 oz [2 cups] water
4 raw egg yolks (use eggs from free-range, antibiotic-free chickens if you can)
4 capsules raw glandular supplement, such as, multigland supplement by Immoplex)
4000 mg salmon oil (see note at bottom of recipe*)
800 IU Vitamin E ("dry E" works well)
200 mg Vitamin B complex
1/4 tsp. kelp (optional)
1.5g Foverever Young Animal Botanical (per day dose)
NOTE: If you are freezing the food for more than a week or two it is also not a bad idea to sprinkle extra Taurine from a capsule on the food as you're serving it two or three times a week, just to be certain your cat is getting plenty of this critical amino acid.
METHOD
Remove the skin from the muscle meat. Cut up as much of the muscle meat (minus most of the skin if using chicken or turkey, but leave skin on if using rabbit) as you can into bite-sized pieces. Save the cut up meat for later. Do not grind it.

Grind up the raw liver, any skin, raw meaty bones, and raw heart. Once ground, stir this meat/bone mixture well and return to refrigerator.

Fill a bowl with 2 cups of water and whisk everything (non-meat) except the psyllium. If you had to replace liver with Vitamin A/D or replace heart with Taurine, add the substitutes now. Add psyllium at the end--if you're using it-- and mix well. Finally, put the three mixtures together--the "supplement slurry" that you have just mixed, the ground up meat/bone/organs, and the chunks of meat that you cut up by hand. Portion into containers and freeze.
Cats like their food at something approximating "mouse body temperature."
Every two or three days, I suggest sprinkling a few drops of fresh salmon oil from a newly-opened capsule on to the cats' food. The Essential Fatty Acids in salmon oil are extremely fragile, and since we do not know exactly how much gets lost during freezing, I think it's wise to use a bit of fresh salmon oil directly on the food a few times a week. Most cats love the flavour.
Information in this article sourced from http://www.catnutrition.org/recipes.html