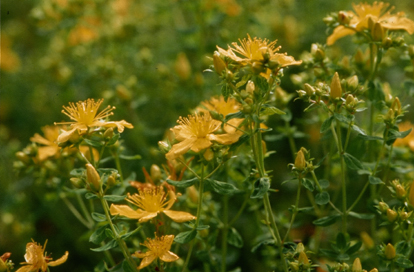 Ovarian cancer develops generally in women between the ages of 50 and 70 years. There are at least 10 different types of cancer that can effect the ovaries. These cancers can spread through the bloodstream or lymphatic system mainly to the liver and lungs. Unfortunately ovarian cancer can spread to a considerable size before it causes symptoms. Vague discomfort in the lower abdomen, enlarged ovaries, the accumulation of fluids are all possible early signs. Pain in the pelvis, anaemia and loss of weight may follow.
For Ovarian Cancer the herbs which I normally choose for my basic support mix are; Wild Yam, St Mary's Thistle, Elecampane, Hawthorne, Equisetum and Yarrow. The Bach Flower Remedies which are included are Centaury, Sweet Chestnut, Red Chestnut, Rockwater and Wild Oat. These herbs in combination, support one another, and support a resolution of the patient's self sacrificial or life fulfilment issues which we believe can be a causual factor in ovarian cancer.
In addition I always recommend MaritimePine Bark a super antioxidant to dramatically stimulate the patients immunity and ability to fight the cancer.
I ask new patients to describe their current condition and treatment program and following an assessment, I will prescribe a treatment along the lines above to begin their program.
After 3 or 4 weeks treatment with your basic program I advise you to submit to a full assessment and online consultation. This provides me with all your medical history and personal details that I need to refine your herbal mixture. At the same time I get you to comment on what you have noticed so far while taking the first round of support treatment.
My herbal mixes contain nothing but the safest herbs and I expect no reactions or side effects whatsoever from any client embarking on a course. If there are any worrying signs within the first few days of any new program, you should stop and contact me immediately for further advice.
I look forward to helping you to develop a fully holistic and individual program to resolve your cancer and to provide you with ongoing support and advice along your journey. 
Robert McDowell's staff Herbalists can not diagnose your disease or illness. What they can do is offer a Herbal program, to assist with healing, after you have had advice from your doctor or specialist. If you have unexplained pain or symptoms, seek medical advice. If you wish to ask for any further information or clarifications on this product please click on the link below.