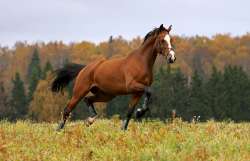 Show horse owners are always looking for the perfect coat conditioner when presenting their animals.This blend works by tuning up the whole metabolism, while at the same time helping to boost the horses general health and acting as a preventative for most common illnesses.  
Working from the inside out, the mix will create a lustrous glossy shine which will ensure your horse stands out in the crowd. This Blend includes Borage, Chamomile, Nettle, Dandelion Leaves, Kelp and Vervain.
One cup ofthis herbal formulation is added to feed twice per day when you first start and replaces most of your other supplements.  After about three weeks it may be reduced to once per day.
For overseas clients I make up a 5 litre extract virsion of the same herbs.