Dock was a stray puppy when he walked into my work place in 1995 full of fleas and ticks and starving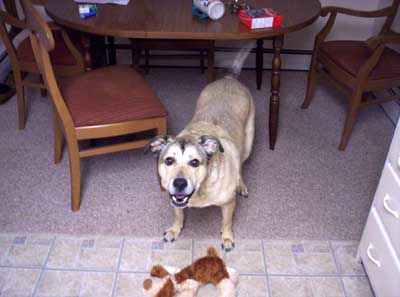 from spending his first couple of months on the street. I took him into the office and gave him water and some meat scraps and kept him there until I got off work. He slept all day under my desk. After work I took him to my Vet and had him examined and cleaned, and took him home from there.
In 2003 during a routine exam the Vet found a lump on his anal gland and under her advice I had the gland removed, the biopsy showed it was cancer and I was told he had 6 months to a year to live.
Refusing to give up hope I went on the internet to read up on this disease and came across Robert McDowell's website, after contacting him he recommended two products to combat the disease his Pine Bark extract and his Adenocarcinoma support mix.
Dock has been taking the medication ever since, his exam in Feburary showed no signs of cancer. He has recently had problems with his Hips and under the advice of Dr. McDowell and his staff I started using the Arthritis and Rheumatism mix and have had excellent results.
Dock is up and playing but naturally slowing down due to his age. He seems very comfortable and upbeat and looks like he has a lot of quality life left almost two years after receiving that terrible news.
Thanks to Dr. McDowell and his staff, they saved Dock's life and I consider them to be his primary Doctor's and turn to them for what ever changes in Dock's health.
Thank You very much to all of you at Bathurst Traditional Medicine Centre.
Sincerely,
Joe and Dock!!