Dear Everyone at McDowells,
I would like to thank you for your support for the past 10 months during our time with our 7 year old ridgeback, Zoe, and her nasty Osteosarcoma.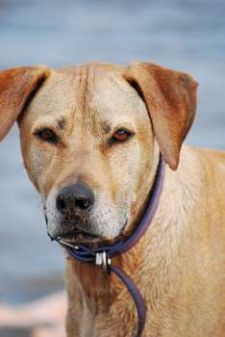 The day that Zoe was diagnosed with osteosarcoma and I was told that she would only have a month or two at the most to live, I thought to myself, there has got to be more I can do for her. My internet search began and ended at your website. I was so glad that yours was the first to pop up. I immediately called your office and spoke to Kate. She advised for Zoe to go straight on to Maritime Pine Bark, OST Cancer support program and Millet and Linsead mix. Zoe continued with this concoction (as I called it) for the next 10 months. I combined all the herbal treatments with only fresh food like meat and veg mixed together. I stopped all processed foods straight away.
Zoe stayed with us in the most healthy and fit form I have ever seen her (except for the noticable osteosarcoma on her leg). She had a shiny coat and was full of life. She was happy and most importantly, she was herself. It came time last week that I had to take her back to the vets as her sarcoma had grown to a point where it was cutting off blood circulation to her foot. We had to put her to sleep as the quality of her life had diminished overnight.
I can not explain in words how greatful our family is to you for giving us those extra 10 months with our Zoe girl who we love and miss terribly. She was a very important part of our family and I must keep telling myself that she is in peace and no pain. I hope that other people in the same situation will read this and continue to help their friend.
Thank you so much,
From Amy McGarvie