Whilst we may all try our best to feed our dogs a diverse and balanced diet, sometimes life can get too busy, and we get distracted and have to resort to more processed options. We have a simple solution...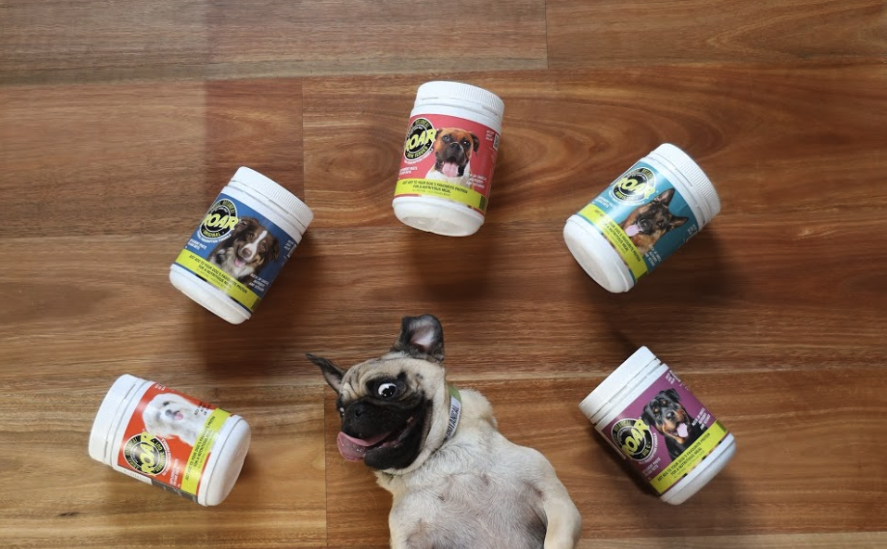 Grain-based commercial pet foods have always been pushed as being easy and convenient but consumers are demanding better quality, natural choices. Dry and tinned food is fine on the odd occasion but basing your pets entire diet on them can start to cause problems.
If our own diet consisted of tinned food, dry snacks and treats we'd surely be feeling pretty unhealthy pretty quickly!
Processed, tinned pet food has been known to contain cheap ingredients - high levels of salt, grain-based fillers, by-product meal and other questionable ingredients.
What's the solution?
A raw and natural diet is the best to option optimise your pet's appearance, vitality and general wellness.
Some people get worried that they can't balance the dietary requirements like a pet food manufacturer does.
Observing your pet's weight, appetite, thirst, breathing patterns, coat condition, elimination (constipation/diarrhoea ), urine output and comfort in movement is a great way to identify your oets general health and wellbeing. We notice these things everyday.
Learn to know your dog when he is well and happy and then you will be on the look out for the times when he may not feel so well.
A raw dog food diet might consist of:
Muscle meat (sometimes on the bone)

Bones, either whole or ground

Raw eggs

Organ meats such as livers and kidneys

Vegetables like broccoli, spinach, and celery

Apples or other fruit

Small amount of plain, unsweetened yogurt
Using herbs and wholefoods
Herbs are ideal "food as medicine". Using common culinary herbs regularly as well as herbal teas add nutritional diversity and flavour to your pet's meals.
Medicinal herbs like our tinctures are specialised and should be given as directed on the labels.
We have also formulated some general wellbeing formulas to add to your dog's diet that help to add to the nutritional profile of the diet.
We created Roar in response to people wanting a high nutrition, but easy, super-food supplement for their animals. Often we use supplements and super foods in our own diet but there was a need not available in super food supplements for dogs.
Roar gives owners the opportunity to create their dog's diet by adding it to quality and varied protein.
Roar is a blend of up to 35 powerful ingredients, formulated and made in Australia. It's made from 100% real, natural ingredients to support internal health and wellbeing.
The ingredients are mixed in to a base of olive oil and include:
Alfalfa Leaf Powder - high-quality, all-natural protein source and phytonutrient supplement for digestive, glandular, urinary, and skeletal systems.

Aloe Vera Powder - anti-constipation effects and helps with bowel elimination

Barley Grass Powder - strengthens the immune system, alkalinize the body, increase energy, aid digestion, relieve constipation, and improve health of skin, hair and nails.

Beef Collagen -

arthritis relief, improved skin health, and bone loss prevention.

Beetroot Powder - a great source of fibre, folate (vitamin B9), manganese, potassium, iron, and vitamin C.

Blueberry powder - antioxidants, boosts Immunity, boosts brain health, and a good Source of vitamins, minerals and fibre.

Brewer's Yeast

- supports immune and nervous system health as well as healthy digestion. Other benefits include promoting skin health and boosting energy levels.

Chamomile Powder -

c

alms anxiety and settles the stomach
Dandelion Root Powder

- helps to fight inflammation and boost immune system.

Garlic powder - a

nutrient powerhouse, it supports a healthy immune system, It's anti-inflammatory and It's good for your liver.

Ginger Powder -

nausea, stomach pain, and other health issues.

Green Tea Powder - loaded with nutrients and plant compounds that have positive health effects

Hemp

- is digest

ible and safe protein source with all the essential amino and fatty acids required
Kale Powder - a

mong the most nutrient-dense foods on the planet!

Kelp Powder

- high in antioxidants, including carotenoids and flavonoids, which help fight against disease-causing free radicals

Millet meal -

contains especially high levels of organic silica and is the key to balancing calcium.

Linseed meal - is specific nourishment for strength and elasticity of ligaments and attachment points and is a wholefood source of Omega 3 and 6 and Linoleic acids

Rosehip Powder -

super vitamin C source that strengths the immune system, and supporting skin and digestion.

Slippery Elm Powder -

treats conditions such as Colitis/diverticulitis, constipation, cough, cystitis, diarrhea, irritable bowel syndrome, ulcer prevention, and urinary tract infections.

Spirulina powder -

known as a nutrient-dense food packed full of vitamins, including vitamins A, C, E and B vitamins, as well as a whole host of minerals such as calcium, magnesium, zinc and selenium.

Turmeric Powder -

scientifically-proven health benefits, such as the potential to prevent heart disease, Alzheimer's, arthritis and cancer.