Sharlene was absolutely heart broken to discover Zara, her two year old Andalusian x Thoroughbred had gone through a barb wire fence. The Vet attended the horse, tidied the hanging skin and muscle but Sharlene knew it was going be a long recovery...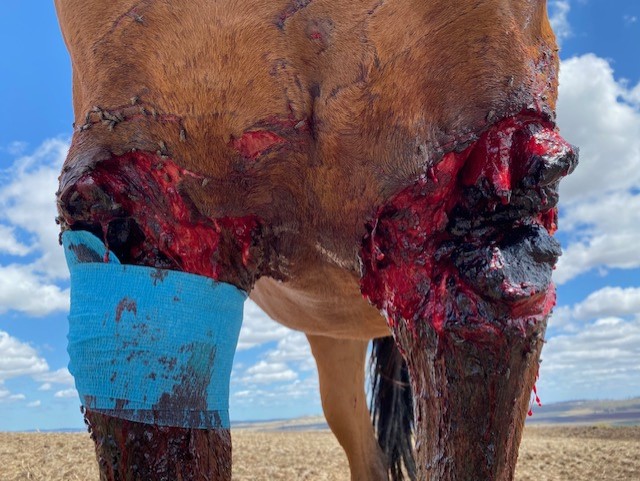 The Vet felt that she possibly will not have full use of her leg due to the amount of muscle damage.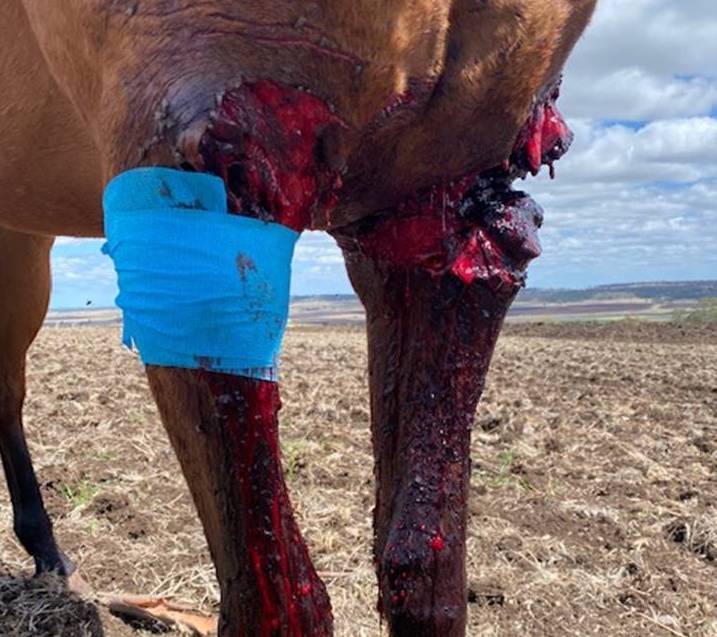 She contacted McDowells wanting to know what she could do to assist healing and scarring....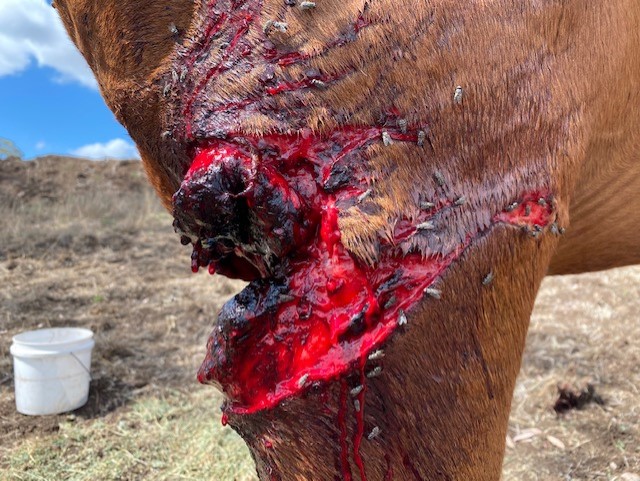 PRESCRIPTION
Infect-A-Clear at

25ml twice daily.
Alleviate at

20ml twice daily.

Equigesta-Pre to protect her gut from the Bute and stress of the incident

Crushed French White Millet and Linseed for structural integrity, tissue repair optimisation. Half a cup of each GROUND seed twice daily.

Chamomile and Rosehip tea with additional slippery elm for gut protection

Eye Wash and you can dilute that with Colloidal Silver and mist it over the wound in a spray bottle OR mix with the cold pressed raw honey and apply to the wound.
We advised would use the honey (good quality cold pressed NOT heat treated) over the wound after cleaning then use the Filtabac or the Tuffrock poultice to act as a bandage over the whole wound to keep the wound bed moist and keep flies off. It was also suggested she used some fluffed up cotton wool over the area as added protection to keep the wound covered and flies off.
Try to leave the wound bed undisturbed for a couple of days at least and any areas that lose the Filtabac or Tuffrock just spritz with the Silver then add the honey and fill in with Filtabac again. You may even be able to skip the honey and just use the Silver and the Filtabac etc
UPDATE
Sharlene sent updated images. The mare was not quite healed yet but getting along very well.
Sharleen had been using a 'Hidez' suit to protect the wound as it was easy to get on and off with the zips!
She made a spray of honey and silver to apply still and have put cotton wool and guaze over the wounds which mostly stay in place with the pressure of the suit.
Zara would chew a hole in one side and pull the guaze out though!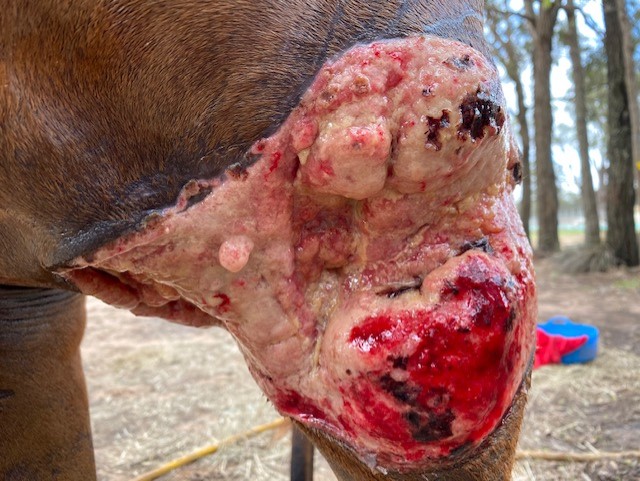 Sharlene also used the McDowells Skin Healing Cream for over a month as the wound as it healed and felt the scarring was minimal, considering the wound size.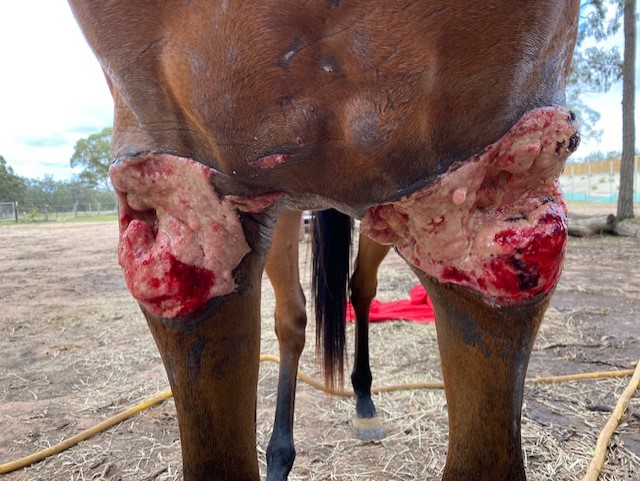 All in all it was healing and Sharlene was just trying to keep on top of the leg swelling.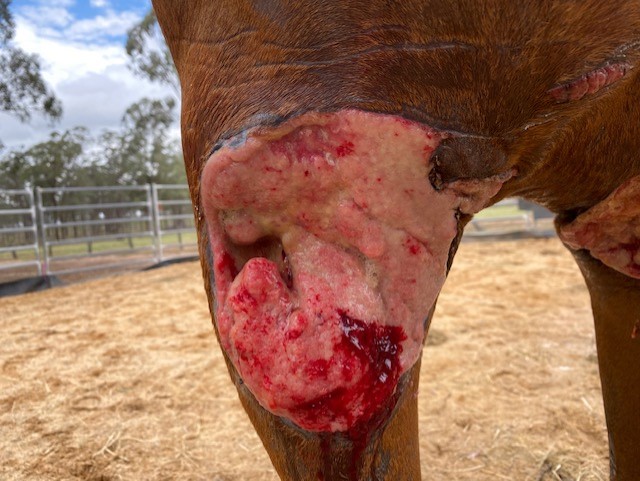 SECOND UPDATE
This video shows Zara's movement he can lead with left but action is shorter on this side. This was one month after the accident...she started galloping and doing flying changes again around Christmas!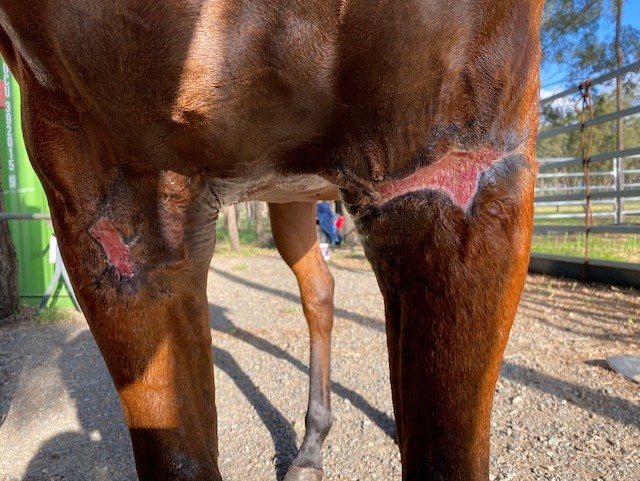 UPDATE
This is now February, 2021.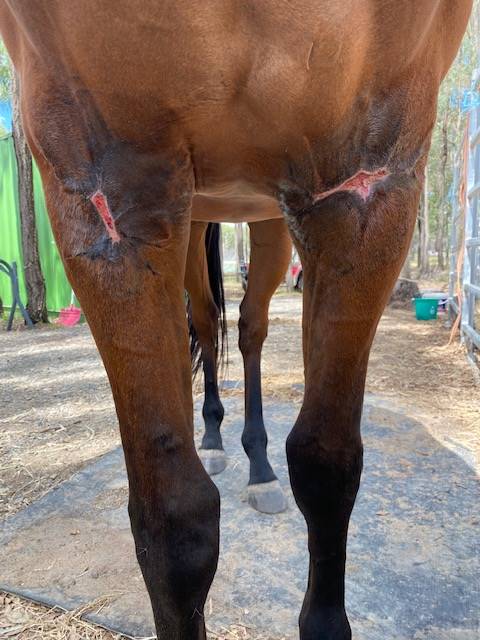 Zara is great thanks. She has gone back out to the farm and is looking great..