Hero is an Off the Track Thoroughbred who is 8 years old, 16.1hh. He was on paddock rest for a very large tear in his superficial digital flexor tendon. This article is generously written by his owner, Diane.
Back at the beginning of December 2019, Hero was diagnosed with a significant tear to his superficial digital flexor tendon on his offside hind. I had had him since February, having bought him 'off the track', his last race being in late December 2018. He was going well, so I was devasted that he had this injury and the prognosis was very guarded due to the extent of the tear.
I put Hero on the McDowell Tendon and Bone Mix to aid his recovery. He was quite lame and was in confinement for 4 weeks before the threat of bushfires made me evacuate him from the Southern Highlands to a thoroughbred property on the Central Coast, where I knew he'd be safe and looked after.
I'd used the mix previously when I first bought him - to aid any repair from a lifetime of racing. In hindsight, I should have continued with a low dose as I am convinced the injury is one he had sustained previously, during his racing career.
For 4 months he ate grass and enjoyed a very quiet life, before the threat of not being able to travel to see him (due to the Covid-19 virus) forced me collect him and bring him back 'home' to the Highlands. In my mind it was probably a little early, but at least I could see him whilst he completed his recuperation.
I was quite anxious about whether his tendon was mending and if I would ever be able to ride him. The vet was called to re-scan and although it was a little earlier than scheduled, I was keen to know if there was some improvement (at least) so I could decide what we needed to do next if there wasn't any improvement.
But back to the scan!...The vet took a long time scanning up and down the tendon. My anxiety was rising with every moment of silence. Finally, he looked up and said 'it's good news – in fact, it's better than that. I'm amazed he's repairing so well – he looks like he's been healing for 6 months, but it's only been 4.' My take on the vet's reaction was that he was rather perplexed and almost doubtful as to what he's seen (hence taking so long with the scan). I'm sure I don't need to tell you the relief I felt and enthusiastically started telling the vet about this special herbal mix I'd bought from McDowell's. I guess I could have spared my words, as he didn't comment at all – that's not so surprising, but I'm convinced the herbal mix has made the difference.
I have my own evidence! I have previously used the Tendon and Bone mix on two other horses – one 'miracle' horse who had a major fracture of his humerus and another horse with a suspected fracture to the cannon bone. Both recovered fully and returned to normal work! I am convinced that the Tendon and Bone mix had worked for Iggy – a 17.1hh OTTB who was a very talented horse. His fracture of the humerus hadn't shown on the first x-ray due to the difficulty and muscle density of the shoulder but after 5 weeks another x-ray showed the extent of the injury due to the line of calcification occurring along the fracture.
The vet had said to me that if he had seen the injury on the first x-ray he would have recommended euthanising him. However, seeing the bone repairing itself, we should keep going and so we did. It was a long road, but we did it and he returned to competition without a worry. The second horse's x-ray had been inconclusive, and we didn't re x-ray as he was appeared to be recovering well. After 3 months box rest, he was back in work!
Diane Butler
Hero's x-ray late december and before feeding Tendon and Bone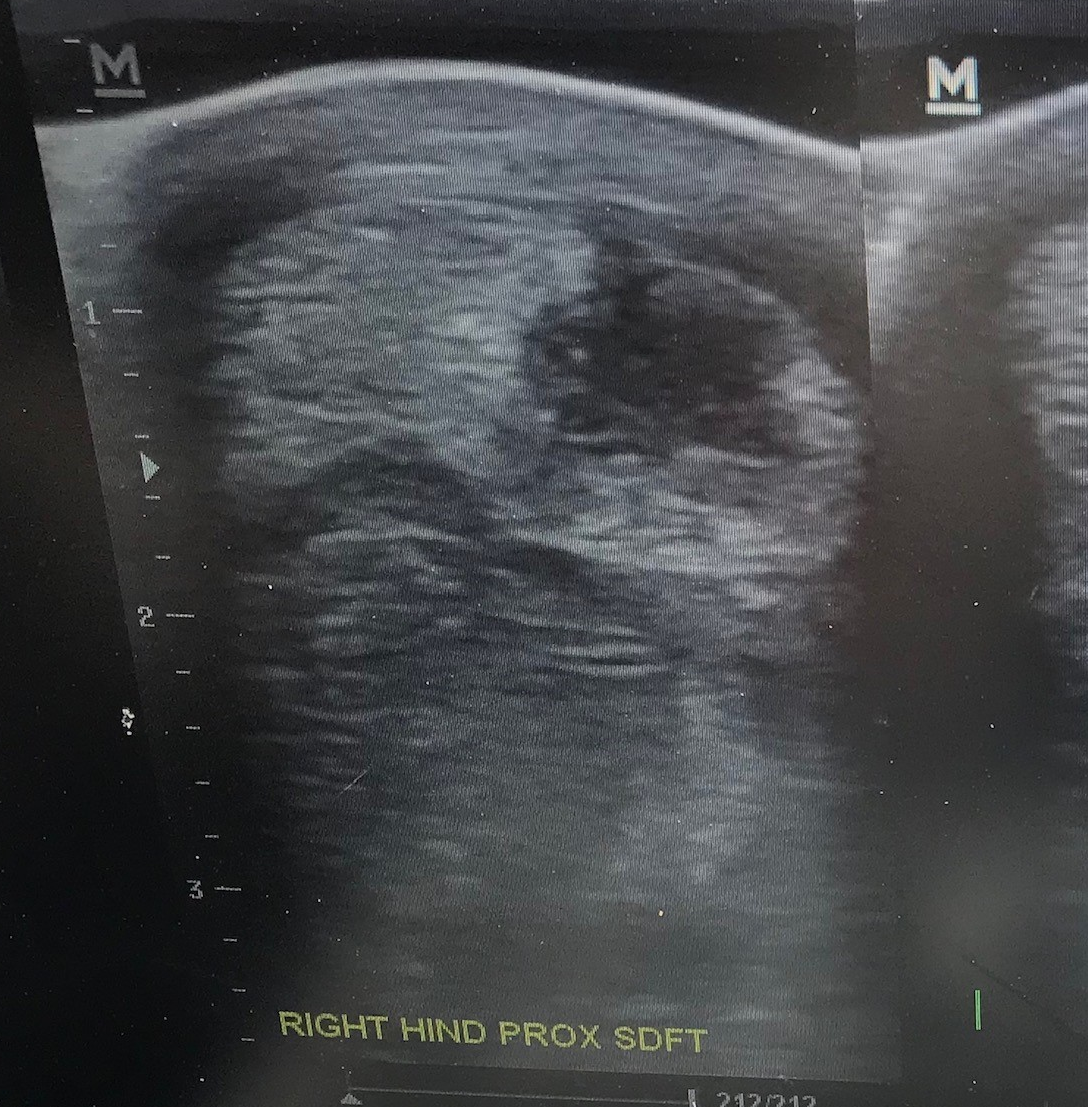 Hero's x-ray 8/4/20 after