Introducing Trekker and Jana...
Trekker is a Retired and Rescued OTTB. He was a Group One Racer and a Group 2 Winner - Winning Over a total of $330,000 in prize money.
Trekker 'Amtrak' was purchased/rescued from the Kyneton Horse Sales for $200. He was malnourished and over the following years, we unfortunately had many trips to the equine hospital. He was complex, and the thought of Trekker becoming injured, was and still is, no surprise.
Our first meeting with McDowell Herbal was in 2015, Trekker had sustained a paddock injury; a little slice under his hock. We went straight to the equine Hospital and after investigations it was apparent that he had lacerated his digital Flexor Tendon. The treatment outcome was very poor, as he was very lame, and euthanasia was recommended.
I wasn't ready to say goodbye, so I frantically searched for treatments In Google, and luckily I had stumbled across some success stories by using treatments from McDowells Herbal. This is where our journey with herbal medicine began...
A journey of a 1000 miles begins with the first step
After an emotional phone call to McDowell's, I was provided with a plan along with reassurance and encouragement to not give up just yet.. We immediately began and endured the treatment, along with rest and rehabilitation. To my amazement, Trekker ended up being paddock sound. I honestly thought it was a miracle! Little did I know that we had worse to come...
More bad news...
It was the Morning of Tuesday 22nd November 2016, It was late afternoon and Trekker was found standing in the dam, pouring in a distressed state, he was struggling to walk. I managed to get him out of the dam but was unable to move trekker away from the edge, where he chose to rest, to alleviate the pain in his hooves. The Vet came the next day, and he was diagnosed with Acute Laminitis. He was initially treated with a daily dose of Bute, for a maximum of 3 days. I am always cautious using Bute for pain relief due to its negative effects on the body's systems.
I immediately made contact with Cath, and he commenced Infect-A-Clear, Alleviate, Colloidal Silver, along with Slippery Elm Powder (Equigesta-Pre) and chamomile flowers to assist with his gut flora. During this time approximately a week, if not 2, he was walked every hour and his abscesses where able to surface. It was evident that he had more than one abcess, he in fact had 5 - 3 on the front left hoof, one on the left hind, and another on the right hind hoof. Trekker was in excruciating pain and found it difficult to weight bare. He would often Lay down straight after our walk. Walking was, and is, encouraged to promote blood flow to the hooves. Almost another week or 2 had passed and to our amazement, his whole front left leg began to swell, it had doubled in size. My vet and I where stunned, as we had initially thought that he had a 6th abcess in the works.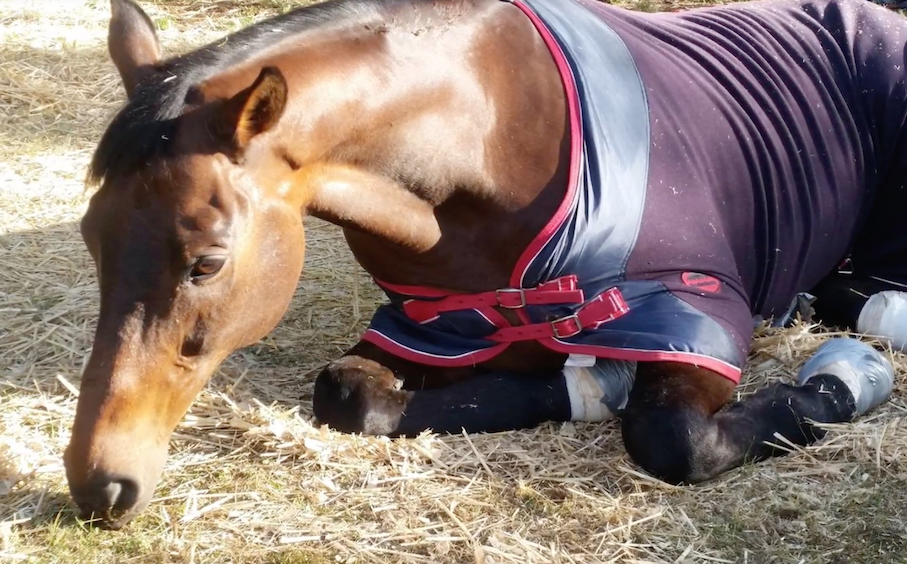 But a little time proved us wrong and he was no longer able to bear the pain. He was crippled and unable to stand nor walk. His temperature was a continuous 39 - 40 degrees. His was tachycardic. Trekker was diagnosed with now also having a Tendon Sheath Infection in his left leg, as a what we think, was a result of excessive strain and lack of blood flow to the tendon. Trekker was immediately commended on IV/IM and oral antibiotics provided by our but he did not respond to the treatment. He was urinating, small concentrated amounts frequently, he had bed sores the size of my palms, despite sufficient bedding. Nothing was working and due to his deteriorating state, Euthansia was again recommended for humane reasons.
We keep on going...
I had been conversing with Cath on a almost daily basis, and due to his deterioration, he had a 20% chance of making it out alive. I had an exacavator on standby, ready in case I decided to make the call. There where many times where I was physically and emotionally exhausted. But there was something about him which made me keep going.. and so we did.. We all made the executive decision to give it all we got, we literally had nothing to lose. All of his 3 daily doses where doubled if not tripled. He was also commended on the Tendon and Bone Mix and also Rosehips to assist with his kidney function. He was also trimmed on a fortnightly basis by our Vet/hoof specialist.
We continue on....
It was a long, tiring couple of months. I was constantly doubtful. Treatment continued and there began to be small glimpses of hope. I remember looking outside my bedroom window each morning, to check if he was standing or not. Some mornings he'd be upright and my heart would leap with joy. He continued to be walked 5-6 times a day, despite his condition, but we needed to keep the blood pumping in his hooves. During this time I chose not to work. Trekker had to be standing upright every 2 hours in order to get him off his bed sores.
Progress was slow, and fluctuated, 3 steps forward, 10 steps back.
During this time we where in the process of moving closer to town, so when he was able to stand for at least 20 minutes at one time, we moved and he, of course, had to come. He lived with me and my fiancé on an acre block behind the house with Jimmy, one of my other horses, and soon later Arnie my Clydesdale Cross had to them due to requiring medication for an eye ulcer. The days where long and hot...it was summer...and temperatures soured over 36 degrees. Trekkers leg was to be iced during the hot hours of the day, or when able, and he could honestly not be trusted. Trekker had to be yarded/sheltered under the large gum tree, or else he would choose to sun bake in the scorching heat of the day and I couldn't risk him becoming dehydrated.
Slow improvement...
He continued to slowly improve. His abscesses where still poulticed in order to keep them draining. He wore hoof boots when walking to support his fragile soles from potential stones. His cheekiness began to shine through, his appetite had fully returned by this stage. He had NOT given up and the treatment WAS Working! We just needed to give it time, and so we did. The results speak for themselves.... People would often question my decisions, and that is okay, but wouldn't you save the horse you love and cared for, like you would your child, no matter what? My answer will always be yes.. and he wouldn't be here without Mc Dowels Herbal Treatments.
Functional and healthy
Today... the scars are still evident, but he requires no further treatment to live a fully functional and healthy life out in the paddock with the rest of the 5 horses. Trekkers story is a true testament to Mcdowells Herbal Treatment. I hope that this testimonial will encourage other horse owners not to give up, just because the vet said that they can't help them.
Thank You once again, Cath.
Jana & Trekker