INITIAL CONTACT
We live in a wet area with lost of lush pasture which consists of Rye / Clover / Kaku / Short-stem Sedge / barley grass / native grass etc.
Foxy was reluctant to walk and when she did she seemed stiff and sore. I immediately confined her to a stable area with sand flooring - gave her Teff hay in slow feeders and fresh water.
Foxy was very overweight and Vet suspects Foxy is insulin resistant / EMS - due to fatty deposits on neck/rump /girth area and has suggested she have a blood test as there is a medication that can be given to Insulin Resistant horses.
Both feet where x-rayed - prognosis is Foxy has had sub-clinical laminitis for potentially the last three years.
She was given 4ml of Bute for 3 days Tuesday, Wed, Thurs and then 4ml of Bute for the following day Friday.
Farrier trimmed her feet and supplied ' Cloud Easy' boots for comfort
The farrier who has expertise in laminitis, feels Fox's metabolism has been out of whack for a while and given the amounts of pasture this year she tipped over the edge. Foxy has been off pasture since Monday 13th November 6am.
She is in a shed area with the ability to see the herd she has a goat friend that is sleeping nearby she has access to shared and has the ability to move.
MCDOWELLS RECOMMENDATION
The program designed below has proven 100% effective in managing IR and metabolic syndrome so that Foxey will be able to have a more normal kind of life. It will take about 12 weeks to correct. Firstly she needed to be on the following diet and herbs and locked off all green pasture - she is not to be able to graze at all, and she can only have access to wheaten straw to chew on between his feed of speedy beet and herbs.
Please make sure there is no lucerne in the feed, and only used Speedy-beet as the base forage. I also recommend the product Equigesta-Pre in situations where there may be hindgut acidosis.
Our prescriptions are based on; White Willow Bark and Devil's Claw as anti-inflammatory agents; Guaiacum as a lubricant, and Burdock as a blood cleanser for Rheumatoid processes as well as Pine Bark, Rosehips, Comfrey and Yarrow in a Vinegar Base supporting healing. The Bach Flowers Honeysuckle, Vine, Walnut and Rescue Remedy are also included
All these herbs not only reduce inflammation and pain but assist in the healing process which will help reverse the underlying condition completely. These formulations may be used safely for both emergencies and in the long term for comfort. They do not swab and they do assist other equine herbal healing programs.
This is a specially formulated supplement of herbs that have been traditionally used to support endocrine and digestive imbalances, and may benefit those horses that have had their metabolism compromised as a result of stress, illness, over fed processed food or over use of chemicals.
The tonic will need to be given for a minimum of 3 weeks, and can be maintained long term if necessary. Improvements are usually observed within 3-6 weeks on the tonic.

The hoof oil is a mixture of herbal oils and extracts which heats and brings circulation to all tissue and bone in the area, also assisting with Founder, Pedal Osteitis, Navicular Disease and Sesamoiditis in the fetlock area.
Ulcers, or gut pain from inflammation and tension is a problem for many horses. In response to this need, I have developed a beautiful prevention product called Equigesta-Pre which contains pure plant powders and hindgut buffers to not only prevent digestive ulceration, but also to act as pre-biotic and digestive improver. This mix will also help regulate cortisol levels.
FIRST UPDATE ON FOXEY
Foxey has been off 24/7 grass for 12+ weeks now. She has been taking the herbs you recommended and has now finished the Alleviate and the Metabolic Syndrome. Foxey's diet is based on a combination of Teff Low sugar / Sweet Vernal / Bent Grass low sugar hay and her Speedibeet / wheat chaff with herbs twice daily.
She has lost a considerable amount of weight and on the recommendation of my barefoot trimmer is now allowed a small amount of grass pick. Foxey is moving much more freely however her soles are still quite thin and she is still in boots. Her thin sole-plane will need to be addressed with hoof plates moving forward.
Currently, I have extended Foxeys laneway and take her for short daily walks. We have just had the paddock slashed so my plan is to create a track system to promote more movement.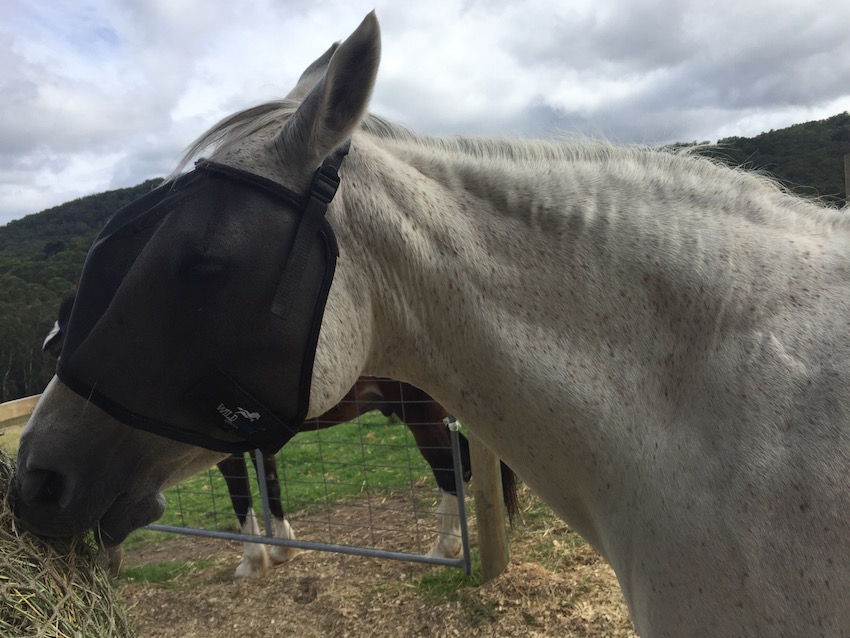 SECOND UPDATE ON FOXEY
Foxey is doing well, the herbal products have been a great help to her as has the diet and lifestyle change, regular barefoot trims with weekly manicures. Foxey is unable to access open pastures but has the ability to move freely and socialize with her herd.
I am diligent to ensure her boots are removed daily, her feet are cleaned and washed with cider vinegar to keep away mold and then apply the McDowell hoof oil.
Our next phase will be transitioning out of boots, ongoing diet management and the setting up of a track system.