Hi Cath,
Just a note to say thank you for sending us the maritime pine bark in our last order, much appreciated.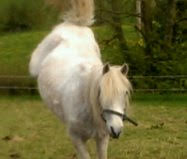 I've been treating another SCC on my horses sheath for the last 6 months, but this time I've been using your SCC ointment, and what a difference it has made! I know from previous experience how aggressive these are, but thanks to using the ointment every day it restricted its growth and remained the same size for 6 months or more which made me wonder if it really was a SCC at all? I had my answer when recently I wasn't able to use the ointment for just 2 weeks, in which time it had rapidly doubled in size and started bleeding again! Horrified, I immediately began using the ointment without delay. The bleeding stopped straight away and no more growth has been noticed again since. It really works!
(The above pic was taken April 2014, after 2 years on a herbal program, his weight increased and enjoying life again!)
When I think back to April 2012 when the veterinary hospital told me he had less than a year to live because the cancer had metastasised, I'm amazed he's still going at all now that it's 2015! I can only thank you for your herbal internal mix which he has been on since back then in April 2012.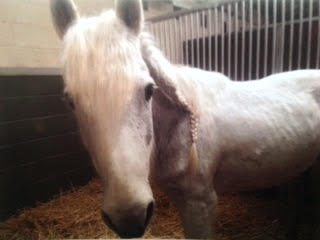 It makes sense to me that herbivores would respond to herbs as I know they instinctively search out what they need given the chance. Unfortunately we put them in little paddocks and take that ability away from them, so that's where you come in!
So I thank you for the extra time we have been allowed to enjoy with our sweet natured little guy. Not sure how much longer we'll have now but he has had a quality of life that he wouldn't otherwise have had.
(This pic taken April 2012, just after surgery to remove his first penile SCC, prognosis not good, and before we discovered your website!)
Keep up the good work, you make such a difference!
Gayle Collins- 25th January 2015