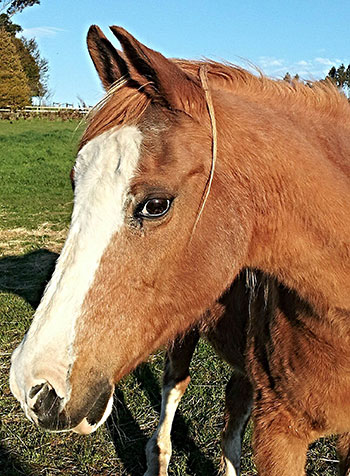 I have made the sad decision to have dear old Fari put to sleep early in the new year. She has not laid down since April (when the roof of her barn tore off over her head) and I suspect that the stress of the whole business accelerated her arthritis to the degree that her hock joints are so compromised she daren't try lying down - even though she has a nice patch of firmish sand that is excellent footing. She is generally in good spirits, but there are times when I can tell that it is a struggle to get the motors going to trundle over for her feeds.
I know that your wonderful treatments have kept her alive, and comfortable, and have restored her to the best health she is capable of without actually being with you for constant monitoring. I was determined that my last days with her would be when she was well and content. She's certainly happy, and although for her stability I don't have any horses with her, her buddy is just on the other side of the fence, and they frequently groom each other over the rails. As additional support lately, she's had Bowen treatments, which she has really enjoyed. She LOVES her food, and happily plows through everything I give her.
I'd like to thank you all for everything you've done for my dear girl. I've had her as part of my life for nearly 30 years. She survived being found starving after being abandoned as a yearling, and has come through droughts and floods in fine form. But without your expert help, I wouldn't have been able to keep going with her these last few months. While her breeding has been part of the story, expert health care and advice about feeding is what has got her through to this astounding age. Even experienced horse folk are amazed!
I recommend your clinic to anyone who needs health help, including an artist friend who is coming to terms with a tumor that is growing around her optic nerve. I know that when the rest of my menagerie get to the stage of needing help, I'll be back to you for advice.
I've attached 2 pics, one when she was nearly 24, carrying her last foal, the other only a couple of months ago, on her 34th birthday.
With many thanks, and love to you all
Lesley