Trigger was a strawberry roan Appaloosa/Arab cross. He was one of the smallest horses I have known, the fastest,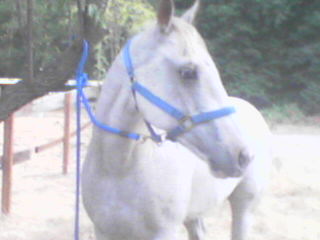 smartest, most fit and hard to catch. He was the alpha, always.
When I got him it was late; it was already dark--- we had been lost for over an hour trying to find the place somewhere
around Jackson CA. In the morning, my partner told me he had Squamous cell--- on both eyes. He looked like hell.....skinny, not much mane or tail, chronic diarrhoea and face filthy from where his eye had oozed out for who knows how long.
Ill never get another horse as good as him. He was the toughest, most honest, loyal, fastest and safest horse I've ever known. He must have taken me up and down the mountain 300 times that first year once he got well; God I was in heaven with him.
I thought I'd do the right thing as my partner worked for a vet. So I paid the eye specialist to biopsy it; she told me it was cancer even before the lab work went out. Then when it came back, she said he would be dead soon if I didn't pay the equine facility in Davis (the state of the art specialists and a vet school) $5,000K to have the eye excised.
Well, I googled equine Squamous cell, and Robert McDowell came up. I ordered a topical and an internal immune booster. I dosed him 2x a day ( but some days only once). In less than a month, the lesion was AT LEAST 50% diminished :-), and by eight weeks all but entirely disappeared. Both huge growths just melted away, and FAST! I was walking on clouds----- could this be changing already---cancer???? And the vet said Trigger was a dead man!!
What a life-saving thing,and right out of the earth! I wasn't sure it would work at all, and wasn't sure what was happening was really happening........he had looked so forlorn.....and every day it seemed the growth was smaller?
Well, it was and Trigger was beefing up, no more loose stools, getting more mane and tail......people were stopping me to say "What a gorgeous animal" as I looked around to see who they were talking about (I had been used to people saying 'how sad" or that he was the worst horse they're ever seen) Why, why do people do that??????
Trigger was a loyal, one-person horse. He hated my partner. He would stand there patiently every day while I washed off his face, and then he would let me put my finger right on his eye with the salve. Never once pulled away. I loved that horse more than any in my lifetime. And like the lady said that sold him to me "He's the best; he deserves nothing but the best".
I told the expensive eye specialist all about the treatment and Robert McDowell; she didn't care. She never even called me back after I gave her the great news. Well, that's people huh. And SHE'S supposed to be the one who CARES about large animals? I think its just about ego.
When those herbs went into Trigger his body TOTALLY RECOGNIZED them and made him the super-horse warrior he was genetically born as all over again. We were so blessed to find your website and these gift from God. You guys are what makes the world seem right and are clearly doing what's correct and truly in alignment with universal principals.
Bless your whole team. Damn the world would be so more right if there were more out there like you---healers with heart---
not just brilliant minds but real, true caring healers. God bless you guys.
And may all grey horses who have fallen to compromised immune systems
find their way to this powerful, clean and very very inexpensive medicine.
When I see my favourite vet on the planet again, I'm going to tell him to look at what you guys have
and start spreading the miracles--- especially for the grey horses.
Happy Blessed New Year to my favourite group of servants to God, the plant-based treasures you disperse, and to my MOST loved NON-human companions------ without whom I would still be searching for the secret to peace and a happy mind