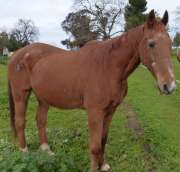 When I first started treating China, his eyes were dull & distant, he didn't really want much to do with me or the world. He has been having regular EMRT treatments for the past couple of years and his body is still improving!! At 34yrs old!! He now has bright, interested eyes, moves around much better and greets me with a smile, he loves his treatments! China's joints used to be so swollen, thickened & stiff. I had tried him on numerous joint supplements & he was very reluctant to eat them. I was amazed recently when I realised he was on the Anti-Inflammatory Healer & Tendon & Bone mix & how great his joints now are. The joint swelling has improved greatly, he has come through the winter so well & he is so much happier within himself!! He is an absolute pleasure!
Dr. Raquel Stoll BVSC, mCIVT
Integrated Veterinary Therapeutics
Hi Raquel
I would like to pass on to you a great big huge thank you on behalf of My China Plate, or as you know him China.
In May 2012 watching my 33 yr old thoroughbred cross trying to move around the paddock or even refusing to get up on cold mornings I thought he would not make it through the winter, it was almost time to make the hard decision nobody ever wants to make. He would shuffle about at a walk nose to the ground dragging his feet trying to keep up with his girlfriend. He was disinterested in food and I had to stand with him for an hour just to be sure he did not wander off and leave his tea.
I had tried a commercial brand arthritis additive, but due to the fishy smell China would leave his food. Even trying new feeds or having to buy a different brand of feed would result in me having to spend weeks integrating feeds and trying numerous ways of enticing him to eat.
Being a regular user of Bowen and myotherapy myself I though what did I have to loose getting you out here.
Not only have you helped China through to last two winters but I have only had one rug on him this winter instead of the previous two doonas. He has a remarkable improvement in his muscle tone, more flexibility and even gives me a scare as he canters up the paddock. Silly sod might have a heart attack.
And thank you too for your recommendation to use a herbal arthritis treatment. Now starting on his fourth bucket of 'Tendon and Bone mix' plus 'Anti-Inflammatory Healer' there is no longer the need to stand out in the cold to check he eats all of his tea or to spend weeks changing the ratios of feed products if the local store changes supplier or runs out of a certain feed.
He is now an almost fat and happy 34 yr young horse who looks like he'll be around for a while yet.
Liz and China