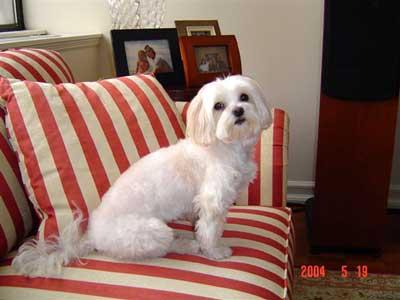 I was referred to Robert McDowell's website by a friend whose dog had been helped by Mr. McDowell's, Bone Healing/Bone Maturity Mix. I inquired about the mixture because our dog, Lexie, 8-year old Maltese, was about to have ACL surgery. I purchased the mixture and gave it to Lexie after the surgery. She healed in short order and was back to her normal self.
Fast forward two years and Lexie had swelling in the back of her jaw. I took her to our normal vet for a check up. He was unclear what the swelling was from but put her on astrong antibiotic for 10 days. The swelling went away for about 6 weeks but eventually returned. Back at the vet, the Dr. put her on antibiotics again for another month (still not sure what was causing the swelling).
Again, the swelling went down but never away. I was convinced that it was because of a rotten tooth so I took her to a special doggie dentist to have her teeth cleaned and possibly to extract the tooth depending on what they found. After the cleaning, the doggie dentist told me her teeth were all fine. He referred me to a specialist in New York City to get an answer about the swelling. After much deliberation between the dentist and the specialist and a surgeon, they concluded that it was a rare salivary disease. In their combined wisdom, they concluded that Phenobarbitol can clear up these rare salivary conditions because they are classified as "endemic epilepsy". After another month of drugs, there was no change. Again, the combined wisdom was a surgical removal of her salivary gland. They also explained that this was a very complicated surgery as it involves many nerves in the jaw and could leave her partially paralyzed in the lower jaw region.
Somewhere in the middle of many months of trial and error and many dollars, I wrote to Mr. McDowell about the problem. (I should have done it earlier but I was so caught up in the veterinary community shuffle I wasn't thinking clearly.) Anyway, Mr. McDowell prescribed a mixture of a Blood Poisoning mixture, Colloidal Silver (from the health food store) and Dr. Bach's Rescue Remedy (also from the health food store) to rid her of any blockage that could be causing the inflammation for 3 or 4 weeks before considering the surgery. Mr. McDowell also recommended a natural gut flora to strengthen her intestinal tract from the damage that could have been caused by all of the antibiotics.
I am happy to report that after 10 days, Lexie's swelling went down tremendously. It was still sensitive to the touch but I was hopeful. Two weeks into the treatment, the swelling was down and she did not turn her head when I rubbed the previously swollen area. I have continued with the treatment (as I am supposed to continue through a full blood cycle of 12 weeks) and Lexie is still doing remarkably well. Her spirits have lightened and she has started to return to her normal spunky self.
My sincere thanks to Mr. McDowell and his whole team!!! You have been responsive to my questions, follow ups, etc. and completely professional and timely in your responses as well as the mailing of the products I have ordered. I can not imagine what could have happened if I had gone ahead with surgery because I thought it was my last option... I am eternally grateful that because of your herbal remedy, I did not have to put Lexie through what would have been an unnecessary surgery. A grateful and dedicated Robert McDowell
Alise Ferency,
New York City