Tallulah, my beautiful smooth fox terrier, was truly a wonder dog who repeatedly bounced back from illness and injury. I'd like to express my heartfelt thanks to Robert, George, Catherine and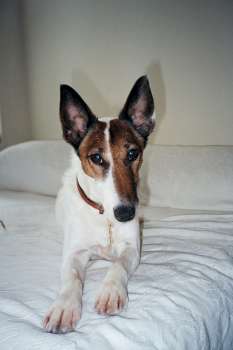 the staff for your expertise and compassion over the years.
Tallulah had multiple health problems and I believe that McDowell's Herbal Treatments greatly improved the quality of her life and definitely prolonged it. When she had surgery to remove her spleen I was told it was life threatening and I would be lucky to have her 6 more months. That was nearly 6 years ago.
I first discovered McDowell's Herbal Treatments when Tallulah experienced incontinence. It came on suddenly and I knew I needed an immediate remedy. Medication didn't help nor did acupuncture. Then one day I came across your website. It was like receiving an unexpected gift. I had an e-mail consultation and your herbalist recommended the Incontinence Mixture which was shipped immediately via air mail. Within 3 days of receiving the remedy the incontinence stopped. I had her finish the bottle as a precaution and she never had this problem again.
A host of other problems arose – a diagnosis of Cushings Disease; a mass on her liver; spots on her lung and brain. You would never have guessed that she had any illness because she had a healthy appetite, a fierce resolve, endless curiosity and a lively bounce in her walk. She had an incredibly strong will and was a real charmer.
I almost lost her to a drug reaction and later to a vicious, unprovoked attack by another dog. But she survived because of sheer will and the recommended Treatments. She was on Cushings Support and Conditioning Mix for years. Her liver enzymes were so elevated that no one thought it possible for her to survive, but I have no doubt that the Liver Reconditioning Remedy and Maritime Pine Bark kept her alive. I truly believe the Liver Mix actually slowed down the growth of her tumor for several years.
Near the end of her life her weight dropped, the tumor started to cause her discomfort and she had trouble standing; but she was a trooper and kept on pushing herself.
I was very fortunate to have her as a trusted companion for over 17 years but am still heartbroken. Tallulah and I will always be grateful to all of you for the best gift ever - the gift of time.
Kindest regards,
Ann