Dear Robert, George, Catherine and team: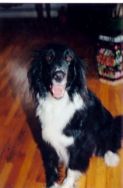 This morning Barney dog lost his fight against the cancer. As I noted below, we were embarking on the Interferon as a last resort as his decline was already pronounced. Interestingly, the Interferon seemed to kick the Orbax antibiotic into action, finally clearing the open lesions on his handsome face. This was a wonderful plus, as the oozing sores rightfully made many people apprehensive about interacting with him. However, I weaned him off the Interferon after only 6 days because I felt that overall it was hurting him in his condition. The benefit had been realized.
Barney kept his hearty appetite for rare steak, cat food, fish oil and carrots to the last day, when he simply refused to eat. Just one day before he had gone for a substantial walk with me, although a little unsteady. But the characteristic white gums, limited mobility and sudden non-interest in food clearly marked the end. We fortunately only had one difficult 24-hour period of decline until his relatively peaceful death at home with us soothing him along.
Barney far outlasted the vet's projection given his numerous conditions (nasal cancer; erlichiosis/lyme diseases; initial severe dental condition including a large abscess; canine cognitive disorder.) He was active and happy until the very last day, and I credit this to the Maritime Bark and the better quality diet that we were encouraged to undertake. We were very privileged to have been his caretakers and companions. Thank you from the bottom of our hearts for supporting us along the way!
We will continue to learn from your website and look forward to future communications.
Kind regards,
Rhonda Shaw and family