Kobe, our six year old Golden Retriever, was diagnosed with Squamous Cell Carcinoma in October 2006.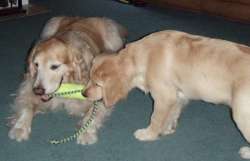 Our local vet removed a small tumor on his jaw.
The Vet told us Kobe would be gone in 1-2 months. To our dismay, the tumor returned within a week.
We were referred to Bathurst Traditional Medicine Centre (aka Herbal Treatments) by a friend in our local community whose golden retriever was receiving herbal therapy for cancer. I emailed Robert with Kobe's condition. Within 24 hours Robert called me on the phone. I shared Kobe's diagnosis with him. He recommended the specific herbal treatment for Kobe.
We started Kobe on the treatment in November 2006. He continued his daily activities of walking 1-2 miles 4 days a week. During the summer months Kobe swam off our boat. He would jump off the back onto a floating raft and then jump in the lake. He would swim to retrieve his "throwable". He did all the activites he had done prior to the cancer.
This past summer our daughter purchased a Golden puppy. Tank, the puppy, lived here with us throughout the summer. Kobe accepted this puppy. He ran with him, played with him, and showed him the "ropes" of swimming off the boat. Kobe has shown no ill signs of the herbal treatments or the cancer.
Kobe is still alive and well. He turned 8 in November (2008). We are very thankful for this extra time Kobe has been with us. Our vet calls him the "dog that won't die!!" Our vet has recommended other clients of his to this Herbal Practice, in Bathhurst, Australia.
We recommend Robert McDowells Herbal Treatments to anyone we meet who loves dogs as much as we do.
Again, "Thank you to Robert and all the Herbalists"!!
Sincerely,
Jo and Steve Spitler
Huron, Ohio USA
November 2011 Update - Kobe died suddenly on Tuesday 8th Nov. We had just ordered another shipment of his Herbal drops (from Herbal Treatments) and we were looking forward to another Christmas with him.  We are broken hearted but still thankfull that we found a Herbal option to treat his Suamous Cell Cancer. We continue to tell everyone about George and the Herbal Team from Australia.