Dear McDowell's Herbal Treatment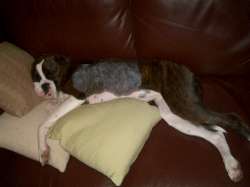 Ruby was diagnosed with a high grade liposarcoma in January 2007 at the age of 17mths. We were absolutely devastated as we had lost our other boxer Bronson just two weeks earlier.
Ruby underwent surgery at the University of Melbourne Werribee Veterinary clinic to remove a large growth which was attached to her heart. She also underwent 4 bouts of chemotherapy which she tolerated extremely well. We would not have continued with this had she reacted badly to the first treatment.
Even though tests showed the margins were clear after surgery, the prognosis for Ruby was not good, and we were told that it was a matter of when, not if the cancer returned and there was nothing main stream veterinary science could do for her.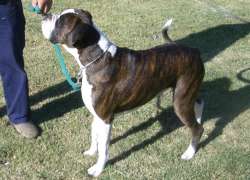 Not content to take a "wait & see" attitude I searched the web for herbal treatments for animals and subsequently contacted McDowell's Animal Herbal Treatments.
Ruby has been taking Millett & linseed mix, Maritime Pine Bark extract and Modified Lymphoma Mix and I'm pleased to say that two years post surgery Ruby appears a normal healthy dog with a healthy appetite and boundless energy.
Our thanks to Cath & her team for their continued support of Ruby.
Lyn Cook
FOOTNOTE
Ruby has led a happy healthy life, but sadly we lost our beautiful miracle girl just one month short of her thirteenth birthday on 8th July 2018. Ruby passed away peacefully in her sleep from what we believe to be natural causes.