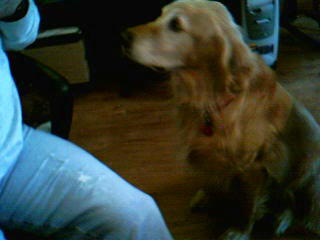 March 06 2003
Hello Robert,
I just wanted to take a moment to update you about Morgan's (our golden) health.
We have been using your herbal treatments for about a month now and have changed her to the BARF diet.
She is like a new dog!
First, she has lost about 10 lbs (she needed to).
Second, she is happy, bright-eyed and playful...like a puppy again. She shows absolutely no signs of being lame, which she did prior to starting your treatments. From all appearances, she is healthier than she has been in years.
Whether she actually had osteosarcoma or just tendonitis is really beside the point. The fact that her health has improved so dramatically is really the issue.
Thank you for all of the great information and nutritional assistance. I will provide you with another update as we near the end of our supply of herbal products to see what you might suggest going forward.
Best regards,
Clyde and Dana Grooms.
Naperville, Illinios
On 15 May 2003 Clyde emailed:
Hello,
I am writing to request a refill of the herbal treatments for our Golden, Morgan. We have been giving her the Osteosarcoma support and Maritime Pine Bark extract. Since it appears that the Maritime Pine Bark bottle lasts for about half of the Ost, I would like to get 2 bottles of that and 1 of the Ost support.
Morgan is doing fantastically well. We have been feeding her only the BARF diet and giving her the herbal treatments every day. She is healthy and happy.
Thanks for all the great information and testimonials on your website and for the herbal treatments. They sure seem to work for us.
Clyde and Dana Grooms.