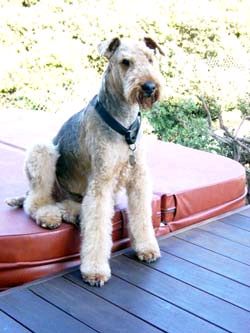 Bob Wagoner wrote:
"Nine months ago our beloved Phoenix (an Airedale)was diagnosed with cancer and we were called and asked if we would like to come say goodbye.
Of course we rejected that option and brought him home to be with us for the two weeks to two months he was predicted to survive. Now, nine months later he is happy and going strong.
We are so happy we found the McDowell Herbal site on the web because we feel the herbal treatments have been a major part of his well-being. We had him seen by a healer, took him for acupuncture, put him on Hill's ND Prescription food for cancer and we continue to do whatever it takes to keep him with us as long he is having a happy, pain free life. THANKS "