It is widely expressed that in riding a horse we borrow freedom; but what happens when we take with no intention to return; Forgetting that horses and freedom are synonymous.
I had forever been an avid believer in animal equality, solidified the morning that sale yard disparity shook me.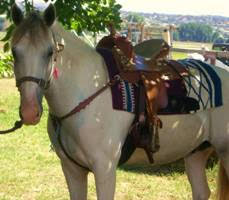 There were over 300 horses waiting at the sale yards this particularly sticky summer day. I was surprised at the respectable condition that most of them were in. As I made my way down the walkway and came to the end of the line-up I was saddened to face the reality that I had come to know. Hobbled, trembling and anxious, a fine built white gelding cowered in the far corner of his pen. He had been beaten with what I can only imagine were wooden implements as splinters lined the open wounds on his back and rump. As his big brown eyes watched mine I noticed the small scars around them and all over his face. The corners of his mouth were raw and split and he would shutter at every brash sound that passed him.
About an hour later as I made my way to the bales of hay provided for bidders to sit on, I saw him being saddled (in this state) and ridden into the ring. He was terrified; but conjured up all of his courage to walk around the ring to be viewed by hundreds of judgemental eyes.
I was the only bidder; and I took him home.
The next morning as I walked into the paddock, my other horses raced over to me- he came with them. I was expecting a greyer reaction from such a worried animal but he came right over. I was told many years ago that a horse is your mirror. Projecting back at me was a confident, curious animal and I was excited.
In order to tend to his wounds I hosed him down to clean them out and in doing so- a history of abuse was unmistakable. His white coat when wet, exposed pigments of black, lined with the lashes of many whips. Once his whole body was wet the damage on his neck, chest, back, rump and most unpardonably his face, were clear.
I was told that he was 15 years old and couldn't help but empathise with him at the years of hardship he must have had to endure. Upon riding him I felt apprehensive, as if he would explode at any minute and take off right out from under me. He was continuously sceptical of my requests; and rightfully so.
As I do with most of my rescue horses I had his teeth done, this needs to be done as a horses teeth continually grow and can cause serious pain- age is also determined by looking at their teeth. This routine visit from the dentist allowed me to see my little gelding in his truthful light and appreciate his reactions aptly.
He was only 3 to 4 years old, just a baby. I decided to name him 'Pirate'- He was a treasure that someone had stolen.
Often, horse dealers will break a horse in extremely fast to have them ready for an upcoming sale; in order to make a profit. Cruel tactics are often used and forceful measures are implemented. The raw skin on his mouth was caused by constant, harsh use of a bit that he wasn't used to nor had experienced before. The lashes are likely to be from the frustrations of someone forcing him into a situation too hastily; and the splinters on his open wounds…can only leave one to speculate.
I had only planned to work on him for a few months before finding him his forever home but found myself greeting him at the gate over a year later. His trust issues although wholly justifiable set him back from being suitable for a new home for some time.
The treatment he had endured at such a young age in such a short amount of time left emotional scars too. He wouldn't let you touch his ears or upper face, panicking when the bridle was being put on. Becoming aware of his consistent dislike of the bridle I began riding him in his halter. Something changed. Although he still had a long way to go- he was finally on a path to somewhere. From this moment forward he only improved.
As the next summer rolled in so too did a woman who through word of mouth knew I had some quality horses for sale; and I did. Pirate was not one of them- yet. She had lost part of her leg in a farm accident and required a particularly quiet horse. As I took her out on a test trail ride she rode another of my horses that was for sale, I rode Pirate. Halfway through the ride she asked to swap. I was hesitant as he hadn't had another rider on him in over a year. As she rode him home I told her of his story and he took care of her until we got there.
Pirate now lives on 3000 acres of farmland, in amongst 400 head of cattle in country Victoria. He is the pride and joy of a farmer's wife and is her trusted mustering partner.
This partnership worked simply because she understood what it was like to lose her freedom temporarily as well; and more importantly how to treat the being that gave it back to her.
(Note- the before picture was taken 4 weeks after he came to me- a significant amount of healing had already taken place)