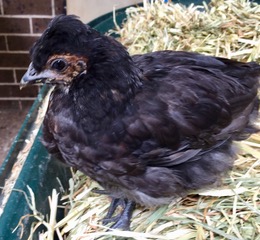 QUESTION
Hi Team,
I was just wondering if you would have any idea about using Alleviate for a chicken? I have a small chick about 8 weeks old who has broken her leg and I was wondering if I could use the Alleviate for her?
Kindest regards,
Sharon
ANSWER FROM KERRIE
I am sorry to hear that your little chicken has sustained a broken leg. Young Chicken legs can be very fragile, and break easily if they are handled too roughly, given too much attention by a dog or cat, or even if their leg slips under a cage as it is being moved.
Usually these breaks heal very quickly in young birds but they must be splinted to ensure it heals correctly. The local vet is the best person for this job. They can align the leg and strap it up in place.
Older generation chicken farmers would also strap up this type of injury themselves, using a small strong stick or even a paddle pop stick.
Once strapped the healing can mend the bone and connective tissue in the right position.
Alleviate is a wonderful option to help with pain management. Traditionally White Willow Bark and Devils Claw were used for pain relief. Guaiacum was traditionally used for Gout and Burdock as a blood cleanser for Rheumatoid processes.
Pine Bark, Rosehips, Elecampane for its Allantoin content together with Yarrow in a Vinegar base all support repair. All these herbs not only reduce inflammation and pain but assist in the healing process which will help reverse the underlying condition completely.
Dosing Alleviate for a small 8 week old chicken is going to be 10 drops (1/2ml) twice per day. This can be mixed into the feed if this chicken is isolated.
If this chick is still in with the rest of the brood, you can increase the amount of alleviate to 10 drops per chicken. This will not harm the other chickens without the injury.
You could also add in a pinch of turmeric powder per chicken for some extra anti-inflammatory support.
If you have a horse and have the Tendon and Bone mix on hand, you could also add in a teaspoon per chicken of this mix into the feed daily. If you don't have this, adding a small amount of millet or budgie seed mix can help to improve the healing of the connective tissues. millet is very high in the mineral silica which is an important mineral supporting hair, skin and nails. This also benefits the bones and joints.
You can also offer a small amount of shell grit. Chickens can regulate the amount of calcium they need. Bone healing can require some extra calcium and the chick may want access to this. Have this out free choice so the chicken can choose to eat this is required.
Fresh herbs and green pick are also a great addition to the diet for bone healing. Chickweed, comfrey, dandelion, parsley and gotu kola can be given is small amounts. Comfrey is a particularly useful herbs for healing broken bones. This can be used as an external poultice. Bone healing generally takes round 6 weeks.
UPDATE
My little chick is doing so well. Only two weeks after finding her with a completely shattered femur she is already putting some weigh on it and getting around. She was in so much pain and unable to move until I started her on Alleviate. She only has 5 drops morning and night be it seems to have made the world of difference. She is so courageous and deserved every effort to help her recover.
Thank you so much to the McDowells team for you support.

Little Lilla is doing so much better each day and follows me about pecking at my toes as though I am her Mum scratching up tit bits for her. Even though her Mum and hatchling sister are still about.