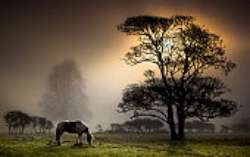 When your horse has colic, it indicates that your horse's whole digestive system is now so traumatised that it can go into spasm at the drop of a hat. This is now the major problem.
needs repeated, small doses of a blend of Chamomile Tea and Rosehip Tea steeped and left to cool with a few drops of Rescue Remedy added to every dose as emergency first aid.
also needs calm surroundings, close to friends and natural plain feed, no pellets, supplements, vitamins or grains; just chaff, hay and Lucerne. Try relaxing massage and certainly lots of TLC.
Start with this program . Prepare each dose by putting 6 chamomile tea bags with 3 rosehip tea bags in a litre of boiling water. Allow to cool with the tea bags in it. Then add a couple of drops of Rescue Remedy and give a quarter of it every couple of hours, maybe first as a drench and later mixed with feed.