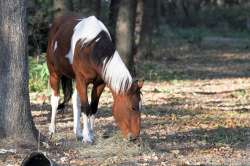 The spraying is really all about excitement where the adrenals glands are pumping so hard they are affecting the kidneys and ultimately the bladder sphincter. Much as a person may wet themselves if they get a sudden shock. It is all about adrenalin.

If there is no penalty in the competitions for spraying, just an annoyance, I would not be doing anything radical to try to correct it.

The three major herbal tonics to strengthen the adrenal system are Borage, Liquorice and Rosehips. You should be able to source Rosehips Granules and make up a herb tea to be used for dampening feed by putting two dessertspoons of the granules in a pint of boiling water and using this to dampen feed morning and evening.

This should also improve endurance and performance.