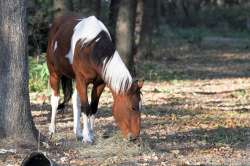 As far as gastrointestinal ulcers are concerned a twelve week course of Slippery Elm Powder and Chamomile Tea is the ideal treatment.
1/3 cup of Slippery Elm powder mixed into a paste once a day and this paste is given directly or added to the horses feed or bran mash. Use enough warm chamomile tea to make it into the paste or if you need to syringe it into his mouth you will need to add more tea to make it into a slurry instead of a paste.
To make the Chamomile tea place 2 tablespoons of Chamomile flowers into a jug and pour a litre of boiling water over them. Leave them to steep and cool and then use enough to make your paste or slurry and feed the rest split over morning and evening meals. You will need a syringe with a feeding tip should you have to syringe it in and you may find adding some raw honey will make it more appealing.
I sometimes cheat if a horse is not keen initially by spreading the paste between two pieces of bread to make a slippery elm and honey sandwich (usually will need two sandwiches). This will often get them accepting of the taste.
Slippery Elm Powder is used to treat ulceration of all mucosal membranes within the body. It will completely reline the affected areas and can be mixed into a paste with chamomile tea to treat scouring in animals by relining the whole of the GIT.
Recent Equine testimonial - "Bass and his Stomach Ulcers"
I just wanted to write and thank you for all your help and advice that you and your team have given me for my horse Bass who was suffering from stomach ulcers.
As you suggested I gave him a 3 month treatment each day of Slippery Elm Bark powder along with the Chamomile and Rosehip tea. Within the first few weeks he was like a different horse. He went from being dull and generally uninterested in me and his pasture buddies to the comical life and soul of the pasture.
He is now a happier and more comfortable horse and it shows in his work and general personality. In the last few months he has literally blossomed.
Although I felt certain that his ulcers must be gone due to his new happier self, I decided to take him to the vets to get scoped just to be sure!!
Much to the surprise of the vet clinic, all 4 of his ulcers are gone and his stomach lining looked in perfect health.
Thanks again, I can't tell you how different he is!!
Kate - Wisconsin