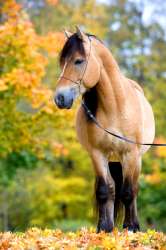 We treat a lot of horses with stomach ulcers very successfully using Slippery Elm and Chamomile mix which is very soothing for the gut. and the slippery elm powder provides a coating to the lining of the gut and the intestines. The dosage is 1/3 cup powder mixed into a paste with a quantity of cold Chamomile Tea. This paste is given directly or added to the horses feed or bran mash.
We recommend this course for at least 12 weeks.
Add rosehip tea to the diet in case any of the ulcers have bled as this is a great source of iron and vitamin C. You can steep 2 - 4 dessertspoons in 1 litre of boiling water, allow to cool, place 1/2 in AM feed and the remainder in PM feed daily.
If there is in any pain, please stay clear of Bute as this is a major cause of ulceration in the stomach and will only add to the problem. I have an anti-inflammatory that is natural and safe to use with no side-effects.
Below are some interesting articles pertaining to stomach ulcers that you may like to read at the following links:
Equine Stomach Ulcers
Bute Debate