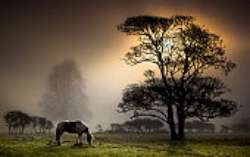 McDowell's 'Equine Keep Well' has been developed as a regular health boost for your horse. The herbs used are chosen for their ability to boost immunity, aid digestion and support kidney and adrenal gland function and circulation. The mix can assist to ward off disease as well as building and maintaining robust good health in your equine friend.
This supplement contains extracts of Garlic, Maritime Pine Bark and Rosehips in an Apple Cider Vinegar base.
· Rosehips are one of the very best sources of Vitamin C. Rosehips play a major role in kidney rehabilitation and adrenal function.
· Maritime Pine Bark is a specialist antioxidant that is many times more powerful than Vitamin C and as such clears free radicals generated by everyday routines. Maritime Pine Bark has anti-cancer, anti inflammatory and anti aging properties. It is also good for recovery after work, aids in the removal of lactic acid in muscle tissue and assist in building connective tissue strength.
· Garlic with it's anti-bacterial, anti-viral and antifungal properties helps to arrest the progress of infectious conditions and clears secondary infections.
· Apple Cider Vinegar can destroy harmful bacteria in the digestive tract and is an effective digestive tonic. Apple Cider Vinegar has also been shown to help lower blood glucose levels.
5 Litre container for $150 lasts 6 weeks
Dose 60ml twice daily mixed in feed